Leader Talk: Interview with Gagan Oberoi, Managing Director & CEO, Espire Infolabs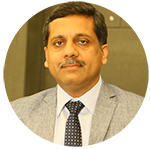 Espire Infolabs is a global IT services company which specializes in digital and customer experience transformation. We got an opportunity to speak to Gagan Oberoi, an industry veteran of more than three decades, and he is the Managing Director & CEO of the company. They have been a NASSCOM member for over a decade and Mr Oberoi had many good things to say about the association, particularly in its role in providing support to members.
 At Espire, how do you define Customer Experience, re-writing the rule book and using digital to drive heightened levels of customer satisfaction?
Espire was set up in 2001, providing IT services, Web Infra support and developing customized software. It was around 2013 – 14 that we sharpened our focus to render digital transformation especially in enhancing customers' experience and content services. It wasn't a knee jerk reaction at all, and things were made to change gradually, bearing well the sensitivities. Around that time, the IT services landscape started to shift as well. The idea of ERPs had served its time to make way for deeper customer focus.
Let me give you an example how we have addressed this change.
It was around the time 2005 – 06, to gain an entry point in managing digital experience, we worked on an Enterprise Content Management project for the UK Tourism. Enhanced customer experience through personalized and contextualized information to the users, provided a significant boost to their overall branding and value perception. Even emotions and sentiments, we were able to capture, which helped to hyper-personalize. Today, AI is driving customer experience and helping companies to draw deeper customer insights.
Customer experience has to be consistent across all touch points, otherwise, the impact will be sub-par. Today, the volume of transactions, number of touch points, channels, and customer interactions have all increased exponentially which have led to rapid adoption of cloud-based strategy.
 Please tell us about how you map customer journeys.
Earlier, the focus on processes was very strong which may have led to customers' wants not being adequately addressed. While working across industries, we have gathered some remarkable customer insights, over time. Let me give you a recent example. We were working with a top-notch school based out of Singapore and we soon realized that the school authorities wanted to talk to the parents directly, something which was not observed earlier. This necessitated a change in the design interface which we did subsequently. I'd like to emphasize here that agile way of thinking can accommodate changing needs.
Similarly, while working with customers and delving deep into their journeys we have successfully gleaned many insights. Conversations occur with external and internal stakeholders and as service providers we must be able to distinguish between the two to create interfaces accordingly. Our developers spend adequate amount of time with customers to understand the heuristics, key challenges and the focus areas. Obviously, the client is not always forthcoming but nonetheless, the consultant has to persist. Importantly, it's not an ad-hoc insights-gathering exercise and has to be data driven. In addition, while customer journeys are being mapped, processes have to adhere to the overall organizational goals. Unarguably, a superior customer experience reduces the risk of customer attrition quite remarkably. Insofar, this engagement has to occur at all stages. Without the customer's active response, architecting solutions will be inadequate.
 Design Thinking in the Digital world – please share best practices.
Every aspect of the customer journey has to be mapped – down to the minutest detail. It has to be borne in mind that the journey happens in many phases. With numerous customer interactions, we have developed a Design Lab which resides in a cloud environment. It allows the end-user to see the wire frames and provide adequate feedback in real time.
Companies which are rapidly transitioning to digital – how should they balance the legacy business as well? Please share your thoughts on leading a two-speed org.
Shift to digital cannot happen overnight. Therefore, the idea of a two-speed organization is here to stay. This change has to also take into account the unavoidable conflict of interest which legacy brings in its wake, as people get comfortable within their self-drawn silos. That's why, change management has to be driven from the top. Things like re-skilling, collaborating are some of the initiatives that have to be undertaken. Also, everything cannot happen in-house and it's imperative to establish a robust partner network. Enhanced skills will make people feel empowered and not see change as a threat to their careers.
 Customer First or Employee First – do you believe in any of this? If yes, how do you resolve conflicts?
At Espire, the priority is always to exceed customers' expectation. This can only be sustained if employees remain passionate about their delivery with very high motivation levels. Employees are nurtured and there's a constant engagement which is undertaken by the HR team, Business Excellence and reporting managers.
In case of conflicts, we try and rotate the people into different projects and monitor their progress. Conflict may arise due to a skill gap and we ensure that it's addressed immediately through adequate training. Conflict is unavoidable but we try and address these issues with a positive bent of mind.
Please share your employee re-skilling experience.
Building competency is a big challenge in the era of Fourth Industrial Revolution. We have a string of online partners who help us ensure that our talent is ready for the future. At the very beginning of the year we clearly define what our go-to-market strategy will be and the skills that will be required. HR sets up the training calendars accordingly.
 Future Pivots for Espire?
We want to focus on customer experience and content services including digital experience management, customer communication management and content collaboration in combination with artificial intelligence, RPA, cloud, integration and managed services. It will enable us to publish personalized content from multiple channels. And ensure, that customer communication remains accurate which is a very important aspect of retention. Most importantly, data protection is our primary concern, given the segment we operate in.