Leader Talk: Interview with Minesh Doshi, Director, Silver Touch Technologies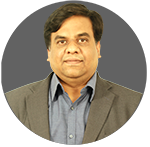 1. The company has been around for a very long time. Please share your thoughts on how the landscape has shaped up, laying emphasis on digital disruption. How differently are you doing things now?
Yes, it has indeed been a very long journey especially after having started from a Tier 2 city (Ahmedabad) where the ecosystem leaves a lot to be desired. Later on, we expanded to Mumbai, Delhi, USA, UK and France. Moreover, our footprints spread across smaller Indian cities as well, to include Surat, Baroda, Lucknow, Chandigarh, Kolkata and Bangalore.
The first decade was about learning, and consolidation followed afterwards. During the second decade, after having strengthened our base we started to expand. The last 3 years have been particularly memorable for us. A well-directed strategy helped grow in organic terms with that we easily reached 200 crores mark in revenue, making it a memorable experience. Expansion to other cities coupled with growth, have added to the overall organizational learning. In addition, working in the government sector has also vastly improved upon our skills repository.
Among other positive outcomes, the ticket size of orders increased significantly as well. Digital transformation in addition, led to new offerings and widening of the horizon. In Gujarat today, I'd like to add that sensitization on the benefits of digitization, is not an issue any longer. Due to the presence of large players such as the Adani Group, Reliance, Torrent and others, people realize the importance of going digital from the existing legacy-based systems. Significant work is also being done.
2. What kind of work do you do using Blockchain? Your thoughts on the ecosystem in India – opportunities and challenges. What kind of policy interventions do you seek?
Blockchain is disruptive technology. As much as it's true, much more clarity is required from a regulatory standpoint – especially after RBI's announcement that crypto currencies will not be recognized as legal tender. Barring that angle of course, we are sold on the idea that distributed ledgers can bring about great positive change for our end clients in terms of security. For instance, how do we introduce Blockchain technology in Government records (land, death records etc.) to bring about much higher levels of security? This is a great opportunity for private players who offer Blockchain solutions, to engage with the government. Though the potential is unimaginable, what we are witnessing right now is a raft of pilot projects. We are yet to see major transformational change through Blockchain. It would help to have a "Blockchain Consortium" of sorts which can be tasked with fostering the right environment both from a policy standpoint and market access.
3. Your thoughts on RPA. How has it helped you? Would you like to cite a few examples? What kind of a future do you see specifically for RPA?
We have successfully done an Automation project for the government – issuing smartcards for RC Book. Earlier, on an average, 15 – 20k of such smartcards could be issued on a daily basis. After automation, the figure is as high as 2 – 2.5 lakhs daily. The work load earlier was being managed by 45 – 50 people which was significantly brought down to about 20 – 25. Wherever the nature of work involves bulk processing, Robotic Process Automation is hugely advantageous. We have seen huge gains in the sphere of BPO, Banking and others.
Non-standard Automation is the next level – processing emails, paper-based files. We did this successfully for a legal client. It takes about 5 legal assistants to keep abreast on 2000 cases – dates for the next hearing etc. An RPA program can do that in a matter of few hours. Compliance is increasingly becoming a very complex affair. Innovative RPA solutions can be greatly advantageous and will ensure that compliance parameters are met.
4. You have services business, consulting and products. How do you manage to keep all three under a common vision? Key learnings?
In a way, there's a similarity between the services business and consulting. A solutions-based approach can be made to work in multiple areas. We continue to invest heavily in both. The product business requires heavy investments and we've had both success and failures. Today, the challenge is how to build a cloud-based product and have it competitively priced as well. Right now, the products business is aspirational, if services and consulting be the bread and butter. We will have to treat products as a separate SBU and channelize investments accordingly. It's for the long haul.
5. Please tell us the kind of work you are doing in IoT. Areas like agriculture, healthcare, security – what kind of gains do you see?
We have to resist from treating it like a mere buzzword. The idea of sensors capturing data on temperature, humidity etc. is nothing new. However, that we now have advanced analytics which can cull out insights is truly revolutionary.  Video Analytics will truly be disruptive technology of the future. Particularly from a security standpoint it will change everything. Once implemented, it will be a major step forward in creating smart cities.
On the solutions side we have developed IoT sensors for automated test drives which can map drivers' competency very minutely. So far, our solution has helped conduct 22 lakh tests in five years.
In the coming years, due to IoT, we can expect massive changes in transportation, water management and surveillance.
6. Your thoughts on the "Experience Economy". Is it hype or for real?
It is very real. Take for example, how companies like Ola & Uber have changed the idea of commuting. The app-based economy has particularly changed lives in smaller cities which may not have access to all amenities such as malls etc. This kind of access continues to narrow the gap between the urban and rural parts of the country.
Even for us it's critical. We realize that we can't keep on serving our customers exactly the way we have been doing in the past, however successful we may have been. It's just a matter of time that customers will expect that the bar will be raised and the "experience" will have to be bettered.
7. What kind of talent reskilling do you have in your org.?
Manpower cost is the highest overhead for most organizations. Re-skilling / upskilling is obviously our main focus right now. Though tech is moving at a frenetic pace, the supply side (talent) has not been able to keep pace and that's why it's imperative we address this gap right away.
Our observation is that it takes 3 – 6 months for people to pick up new technology. We try and attach the "learners" with the experienced people (from a technical expertise standpoint). This way, the next layer of technical expertise gets created. It works on the lines of a CoE. Fresh talent coming out of colleges is better equipped to work with deep tech and prefer to work in areas like AI & ML. While there are no easy answers on how to invest in re-skilling but know this, it's an imperative and will have to be done. Companies will have to work out effective ways on how to go about it.
8. Your leadership mantra and big bets for the future.   
Nothing has come easy, in a manner of speaking. Whatever we are today is a result of two decades of sustained efforts and more. In future, we will continue to explore newer ways in which we can add value to our customers. We'd be happy to be the IT vendor of choice for our esteemed clients. In their digital transformational journey, they should be able to rely on us and not fall back on a multiple vendor strategy.