Spocto surveyed its global community of digital marketers to uncover the spam rate and effectiveness of various digital marketing channels and determine the biggest challenges and opportunities for their marketing efforts.
How marketers can use big data and build the user profile based on customer analysis, content analysis, demographic analysis, intent analysis, behaviour analysis and channel analysis.
The survey aimed at finding the extent and effects of spam on marketers and consumers. Big data analytics marketing platform spocto has found that marketers need to find the right platform in order to get a response from the customers.
The study was conducted to find, how spam affects communication across various digital marketing channels and to determine the biggest challenges and opportunities for marketing efforts.
Consumers today are more active on various social media platform of their choice. It's time for the brands to combine technology in available digital space and start respecting user's on at their preferred time, on their preferred channel, with preferred content without spamming the consumers.
The study was directed with a specimen size of 5,000 consumers and marketers each across 10 Indian cities.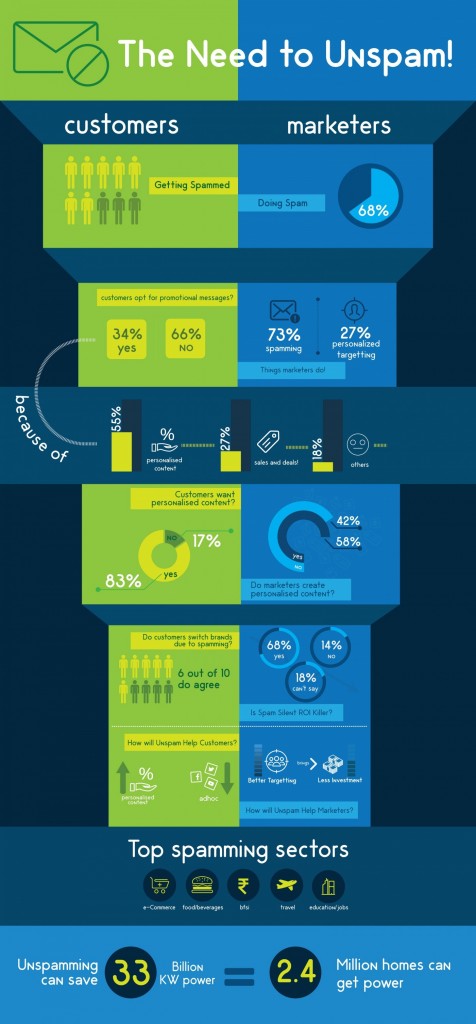 In the survey, e-commerce, food, banking, financial services and insurance, travel, education, jobs and real estate emerged as the sectors that send maximum spam messages. Advertisers collectively concurred that enhancements in focusing on techniques could diminish their promoting spending plans.
Marketers need to think how to achieve brand love.
This blog has been posted with permission from Spocto. The original blog appeared here-Â http://blog.spocto.com/index.php/2016/04/13/need-to-unspam/