AgriTalk with Jatin Singh, Founder & Managing Director, Skymet Weather Services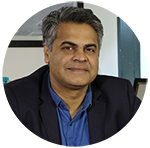 Jatin Singh is Founder & Managing Director at Skymet Weather Services Pvt Ltd and Founder & Director at Gramcover. Jatin launched Skymet in 2003 with the intention of providing reliable and accessible weather forecasts. Skymet has close to 7500 Automated Weather Stations (AWS), 27 lightning detectors and 200 air quality sensors installed across the country. In addition, Skymet has set up about 400 agricultural sensors that enable farmers to understand their crops at a micro scale and thereby maximize their yield.
 With increasing awareness about climate change, weather monitoring has become an intrinsic part of   many sectors. But do you think we are changing fast enough?
I think things are changing fast as both the private sector and the government are aware that we need to do a deep dive into data. The need of the hour is data driven decision making and both are investing in collecting and analyzing it now.
2. In agriculture, who are the biggest consumers of weather data currently? Can a business survive by targeting only farmers? 
I think that is a very good question.  No business alone can survive just by trying to sell data to farmers.  The problem in India is that we get this picture wrong, in developed countries the superstructure was developed by the government, but here the superstructure is in the process of being built and the stress is on private sector to take it that level. In developed countries it was the national weather service in United States or NOAA or the UK Met office in the UK which provided the infrastructure and the private sector built on top of that to provide services.  What we have done in, Skymet, is without any support from the IMD or the government,  we have had to build a superstructure for ourselves, and that is why today we have 6500 automatic weather stations.
How is weather data being used in agriculture currently? Are there use cases that we have not explored yet?
Weather data has been used in this country solely for agriculture needs, how it affects farmers and how will their crops prosper or will there be a drought. Today, weather data is being used for disbursement of KCC loans, for disaster management, precision agriculture, food preservation, rural health (dengue/malaria/chikungunya) and the list is endless.
Climate change is preponderant and is going to affect India and the world, technology is the only means left for us to feed many more with much less. Skymet from its very inception has been managing risk posed by climate change in agriculture, we have sensors- weather, air-quality, crop and lightening, AWS, Drones, Patented applications, Data. We are going from plot to plant and our mission is to collect atmospheric and terrestrial data and weaponize it for our customers.
How should the role of IMD change with the coming of startups? Are there evolving partnership models between suppliers of weather data and those who build solutions on it? 
I think the IMD needs to change rather quickly otherwise it will turn into a dinosaur, we are at a point where Skymet is actually the partner of the government in providing services, both in instrumentation as well as forecast in agri-tech and in the energy space, in both renewables and non-renewables.
Things at IMD are definitely changing but at a slow pace. Their website has become better, the forecast has improved but I'm not sure if it is at a level where a consumer of weather data would like to flaunt it, especially when it comes to the telecom or mobile space once.
Skymet is already in the process of dominating the telecom space, which is need gap that IMD has left. Skymet will be in the palm of every Indian's hand soon and then IMD will have a tough time.
Can you describe some of Skymet's most impactful interventions? 
Skymet's most important achievement has been in predicting the monsoon. Today, Skymet has proven year after year the monsoon that was once thought to be unpredictable is eminently predictable and now all industries government policies or indexing are based on the Skymet forecast.
The other area which Skymet is very successful is in disaster management where we have partnered with the Nagaland government. Skymet predicted cyclone Ockhi 10 days in advance. It killed over 2000 people in Tamil Nadu and Kerala. We were the first people to actually go and invest in a lightning sensor just to remind you that lighting is India's single largest natural killer and we were the first people to put together the sensor network. Today, all the data is given free of cost and has saved thousands of lives.
Skymet has also been working with USAID in climate resilient agriculture. As the country is drying out because of successive failures of the monsoon we have helped farmers de-risk.  By providing good high-quality data and advisories and then getting them included in the national crop insurance programme. Skymet has also had a significant impact in the deployment of crop loans. As India invests about quarter of USD$1 trillion in crop loans all across the country, there are massive inefficiencies. Skymet has been working with some of the largest banks to target crop loans more efficiently and reduce the moral hazard.
How do you see the relation between data from on-ground sensors, satellites and now drones evolving? A few are trying to build solutions by combining these data points.
We have integrated the data sets over the last eight year. We have used satellite, drones and ground sensors.  We are introducing new types of sensors and now even sensing from the mobile phone. Our mission is to go from plot to plant.
I think the new entrants that are coming in do not have any instrumentation on the ground. And neither do they understand Indian weather or the requirement of the Indian farmer. Skymet has these pieces in place already and it is tough to overtake.
You are part of various pilots with the Central and different state governments. What's your feedback on how they are being run and what will be your feedback for better implementation? 
I think these pilots are being run by the government very efficiently.  I have never seen pilots being done at this scale before. Something will come out of this. It should have been done 20/30 years ago. But now the government is finally open to the private sector.  This is a very important realization that the fundamental scientific problems in India can only be solved once the government and the private sector work together rather than working in isolation. I think something very Good is going to come of it very soon
We have seen many new entrants into the weather data segment. What is working and what changed does the ecosystem need to grow? Between data from on-ground sensors, satellites and now drones evolving? A few are trying to build solutions by combining these data points. Your take?
I think the most important thing is, the person who can provide an integrated solution of weather and agri on mobile.  The UX/UI has to be configured in such a way, that we can provide a lot of utility.  Right now these solutions are at the enterprise level, the one who takes it to the individual level will win.
We have seen many new entrants into the weather data segment. What's working and what changes does the ecosystem need to grow?
Acceptance by the IMD. This will lead to sharing of data and resources, and synergy of effort.