Agritech Case Study Series: Fasal
BASIC DETAILS
Product Name: Fasal
Name of Organization: Wolkus Technology Solutions
At the helm: Ananda Verma, Shailendra Tiwari
Year of Incorporation: 2018
Website: https://fasal.co
Core technology used: IoT & AI
PROJECT DETAILS
Tell us about your product/solution in brief.
Fasal is an AI-powered IoT platform for Agriculture ecosystem that records a variety of growing conditions on the farm. It then uses artificial intelligence and data science to make on-farm predictions and delivers actionable insights and recommendations to farmers to grow more and grow better.
FASAL helps in,
* Irrigation management, pest and disease management, fertiliser, fungicide and pesticide application management.
* Getting real-time alerts about crop, soil and weather conditions to make adjustments to reach optimal growth conditions.
* Planning specific strategies and predicting disease and virus outbreak.
Mention the geographic area where your solution is implemented and give us details of the intervention.
Karnataka, Chhattisgarh, M.P., Maharastra, Andhra Pradesh. More details in the video.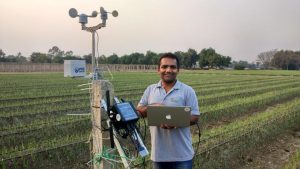 What was the objective of the project and how much of it was achieved?
Fasal works in pre-harvest value chain of food production with aim to
Reduce the input cost in terms of Water, Chemical usage
Improve crop quality and crop yield.
I am very glad to say that, we have successfully achieved that target. All our farmers are able to increase their crop yield by 10%-15%. Save water by upto 20-25% and most importantly reduce number of chemical sprays by upto 40%.
Give details of the cost of your solution and scope of scalability
Fasal is available to all the farmers with different pricing options and farmers can take Fasal subscription service whenever they want. It is a pay as you go model.
Are you looking for partners? Mention details of partnership.
We are looking to partner with Agriculture Research Institutes for strengthening our research. We are also looking to partner with various organisation where Fasal can be value add.