Digital Technologies at the forefront of IP creation
Key trends in 2019 Patent Filing in Europe…
The European Patent Office recently released its patenting trends for 2019, highlighting the increased innovation in the area of digital technologies across countries in turn indicating the next wave of the global economy's digital transformation.
Some key highlights for 2019 included:
Total patent filing of 181,406 patents an increase of 4% over 2018
US firms continued to dominate the patent filing, outside Europe
In terms of growth in number of patents the Asian countries particularly China and South Korea witnessed highest growth followed by the US
Digital Communication and Computer technology (led by the growing importance of Artificial Intelligence) accounted for most number of patents filed, with highest growth rates.
… Highlights the growing focus on digital technologies…
Digital communication reflecting the rapid development of 5G technologies took the lead with China, the US and Europe being the most active regions, roughly accounting for a quarter of the patent applications in the field.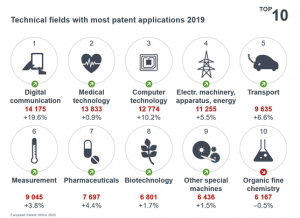 …And US maintaining its innovation leadership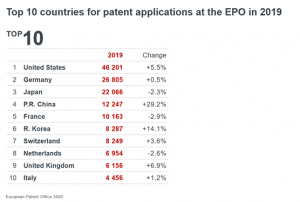 Notably this innovation leader remains the key market for Indian Technology Companies
US remains a key market for technology companies in India, and amidst the growing focus on digital transformation, the Indian technology companies continue to focus on creating IP in the US.
Last year NASSCOM released its study "Emerging Technologies: Leading The Next Wave of IP Creation For India", which highlighted that the share of emerging tech patents filed by India domiciled companies in the US have witnessed consistent growth crossing the 50% mark in 2017/18, with AI being the leading emerging technologies for patent filing.
Will this trend continue this year? Which will the leading technology areas where Indian technology companies are filing patents? These questions and more will be answered in the NASSCOM's this year's report focused on how India domiciled Companies are filing patents in the US. Stay tuned!