Hacking the Pandemic – The Tech That Will!
3D printing or additive manufacturing comprises of successive layers of material which are laid down in different shapes to build a three-dimensional solid object of virtually any shape from a digital model. Since it uses a layering technique it helps to minimize errors of mass production and drive a one-off customizable production.
Historic perspective – Though the initial 3D printers were used in the 1980s comprised of any pattern submerged in liquid polymer and traced by a computer, it has made tremendous progress since then. Domestic usage of 3D printers has been on the rise and the scenario at the production line in industries is changing.
Key trends and Current State – 3D Printing also known as Additive Manufacturing technology has been predicted to be the next big thing at the industrial front. Significant implementation of the technology has been found in sectors such as manufacturing, industrial design, architecture, engineering and many others. While Proof of Concept and prototyping have an increasing value among manufacturers with production use of 51% according to Forbes Research, accelerating product development remains the enterprises' top focus in their 3D printing strategies. Though nearly 50% of the adopters of additive manufacturing focus on CAD design for a design-to-manufacturing approach, building prototypes, research and testing prototypes are also areas that enterprises are adopting today. Professional services and retail would be the major drivers with around $1bn in annual spending.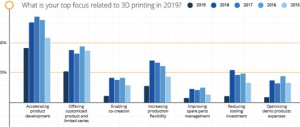 Market segment and applications – The global spending on 3D printing (including hardware, materials, software and services) is $13.8Bn in 2019, an increase of 21.2% over 2018. In addition, research indicates (IDC) a whopping worldwide spending of $22.7Bn by 2022.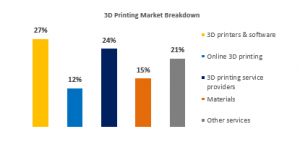 From a regional perspective, The United States will be the region with largest spending in 2019 ($5.4Bn) followed by Western Europe. However, China in the Asia- Pacific region with a spending of $1.9Bn would be the third largest in terms of spending.
3D Printing has been applied in varied sectors. The various kinds of usages of 3D printing includes research, visual aids, presentation models, device covers, custom parts, functional models etc.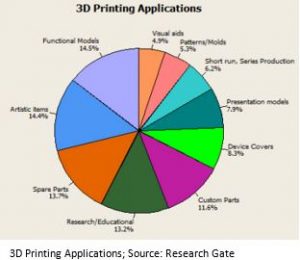 Key Mergers & Acquisitions and Adoption Rate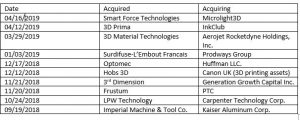 Although industries are embracing 3D printing to optimise operations and minimise mass production errors, adoption rates vary across sectors.  Analysis on the 3D printing index shows aerospace, medical, automotive and industrial goods as the most mature adopters of technology. In addition, North America and Europe are the regional influences in terms of maximum adoption while Asia is fast becoming a strong 3D printing competitor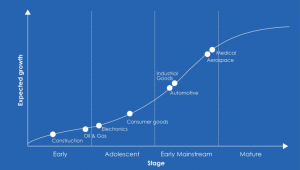 Hacking the Pandemic – The Tech That Will!
Though the medical bodies and the decision makers continue to address critical medical products in response to COVID-19, the need for certain medical devices and tools may outpace the supply impacted by the high demand and the disturbed supply chain. The FDA has previously issued guidance on the "Technical Considerations for Additive Manufactured Medical Devices", this outlines the FDA's recommendations for 3D printed devices. 3D printing can be used to make certain Personal Protective Equipment (PPE), however there are certain barriers as compared to the normal make of PPEs.