Going from high to the higher – The GIC story in India
Global in-house centres (GICs) have been an integral part of India's IT-BPM growth story. A saga that began in the early 70s/80s continues to expand today, exploring new growth areas and realising significant RoI for parent organisations.  Before we go further, here are a few key facts about GICs in India: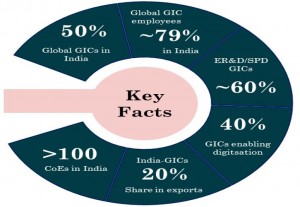 India-Home to ~1,050 GICs and 79% of people employed in GICs worldwide
USD 21.5 billion in exports (FY2016)
1.3% share relative to India's total GDP
~240 new GICs set up in India since 2010
ER&D/SPD – largest segment both in terms of number of GICs and export revenue
Enabling digitisation for their global enterprise – the main differentiator for GICs
GICs-The journey so far… Over the last 5-6 years, GICs in India have expanded their presence across the board:
Number of ER&D/SPD GICs has grown significantly – from 46% (FY2012) to 59% (FY2016)
Geographically, while US-headquartered GICs dominate the landscape, European and Japanese firms are showing higher inclination to set up GICs in India. There has been a 2X growth in European GICs and ~3X growth in Japanese GICs
Within India, GICs are exploring Tier II/III locations like Ahmedabad, Coimbatore, Vadodara, due to proximity to manufacturing, access to niche or low cost talent, etc.
GICs – The differentiating value: Set up initially with a pure focus on cost reduction and on outsourcing standard, repetitive support functions, GICs in India have today matured into key strategic partners for their parent firms. Cost is no longer the primary driver; boardroom discussions now focus on how the parent can leverage its GIC for transforming business globally.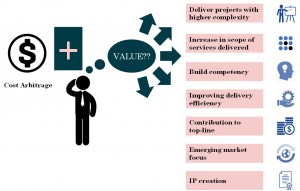 Over 30 per cent of GICs are multi-function centres and are bringing in new capabilities to their global portfolio, going beyond cost and scale. Parent firms are also using the GIC as a platform for local market access and to manage local partnerships.  GICs have also taken on the role of enabling digitisation for the entire enterprise through smart automation, building technology platforms and advanced tools for operational excellence. Robotics Process Automation (RPA) is one such technology that is being rapidly adopted among GICs, esp. in the F&A space.  This adoption of technologies and the changing role of the GIC is leading to a shift in various business models – 'cost plus' to 'transaction based', hybrid pricing models and further growth of multi-function centres.
The road ahead…
Transforming into a global sourcing hub for the organisation's entire IT and business process needs
GICs set to become the hub for digital and futuristic products
Focus on business value and innovation supported by high quality talent, technology and leadership
Partnerships between GICs and ecosystem players to become deeper and wider