Nordics – The next big frontier
Background
Nordics is a high potential region and relatively underpenetrated by India IT. There is limited awareness on Indian IT (its capabilities) beyond the top large players. While Nordics houses many small boutique companies doing cutting edge work in Emerging Technologies that can bring long-term strategic benefits to our industry, there are also a large number of SME and large enterprises posing enormous business opportunities for large and SME players.
We have moved steps ahead in our understanding of the market and have identified the right partners who can help in creating outcome based effective interventions. We are in the process of  building comprehensive – strategic- long term intervention that will open opportunities for our member companies, both large and SMEs and will position India IT as a value creator.
Some of the recent developments include NASSCOM signing a MOU with UNNATI, an Indo-Swedish partnership program having large Swedish Enterprises on board, providing market & enterprise access to Indian Startups.
The Program: To realise the "Market Development" objective we put-together a robust program having multi-stakeholder engagements across Stockholm, Helsinki and Tallin. The four day engagement plan was built on following key pillars that can aid a company's GTM strategy
Understanding Landscape, Business Opportunities & Culture nuances : IT Landscape, Sectoral opportunities, Comp & Price benchmarking, Competitor landscape, CXO priorities & challenges, buying criterions and other data points helpful in comprehending the market landscape. Session on business culture and inferences from End users discussions indicating how business decisions are taken. Interactive sessions with Radar Group & IDC
Ways to access business, networking with probable partners & B2Bs: One of the largest market place platform E-Work and a budding one Otivr explained how to leverage their platforms to access business. B2Bs in Helsinki and networking opportunities organised by Embassy of India in Sweden & Finland helped participating companies network with local players to explore partnerships.
Setting up, Hand-holding : NASSCOM negotiated an attractive package with Embassy House, a multi-location soft-landing & incubation provider for companies keen to setup. Additionally services around filing a local entity, HR Payroll, F&A, Compliance to be made available at a nominal cost.
Location visit to Estonia (Tallinn) –location assessment visit to Tallin. The country of 1.3 Million have done excellent work in E-Governance and citizen services. Skill shortage and Government backed program to attract high-skilled workers is in place. Estonia is not a part of Nordic region, but  closely located & in EU.
Paving way for Strategic partnerships that could tremendous long term benefits 
The visit helped enormously in mapping & starting a dialogue with key stakeholders, understanding their challenges and arrive a potential future roadmap. If done well, this can really help us leapfrog and ascertain a sizable share in the Nordic market:
COMBIENT – An industry consortium of 28 large Swedish Traditional Enterprises such as Kone, Ericsson, Volvo, Saab, Storaenzo and others. Following areas of potential engagements have emerged:
Fostering Innovation through a structured program between NASSCOM COEs and Combient Foundry
Wallenberg Artificial Intelligence, Autonomous Systems and Software Program (WASP) , a major national initiative for strategically motivated basic research, education and faculty recruitment in AI, autonomous systems and software development, with an intent to position Sweden as a leader in these areas. We can draw learning/ develop a road for NASSCOM's work in AI
Skilling : Like all other nations, Swedish work force needs to be upskilled/ reskilled. Going forward we will explore with both countries if synergies can be drawn and our industry can be engaged address the skill shortage challenge through NASSCOM's Future Skills Platform.
Facilitating Handholding & Setting up: in partnership with Embassy use Sweden
Provision of nominally priced incubation facilities for setting up and testing waters in early days. Additionally access to industry connect, events and networking opportunities. Nominally prices services such as HR Payroll, F&A, Setting-up a legal entity.
Feedback & Impact
Prismatic Softwares (Pune)
Focus on business development : I think this was nicely thought through and designed . 2 days in sweden , a day in helsinki are really planned meticulously to get the best of understanding about the IT industry in these two countries . Understanding the cultural aspects, exact business needs from the most authentic forces is really going to help us in strategizing our moves towards making an entry. It was great to see GOI participating in the program, getting involved keenly in all the discussions and also showing his readiness to support. – Managing Director
Infostretch (Ahmedabad)
We achieved quite a few things. The event was well designed- Got a good overview of the markets,  Practical information from consultants on market entry and legalities, Meetings with ambassadors was a wonderful thing, Fruitful interactions within the group and with Nasscom. Estonia Trip gave a good showcase of the digital economy. Let us have more real buyer-seller interaction. Build a long term association with Combient and Helsinki Business Hub. – Vice President – EMEA Business & Global Alliances
Inspire Infosol ( Hyderabad)
Was a pleasure meeting NASSCOM team and representation from GoI. This was our 1st experience with international industry connect organised by NASSCOM. We have a better understanding of opportunity in terms of size, market dynamics, competition, potential partners, vendors and more. We were able to make a couple of potential connects for exploring the market further and plan to create a detailed plan of action based on the interactions with the connects and follow it up with actioning our 30-60-90 day plan. We will reach out to you, Business Sweden, Business Finland and Estonian team for help as we progress with our plan. We should push for more industry connects in Finland and Estonia – CoFounder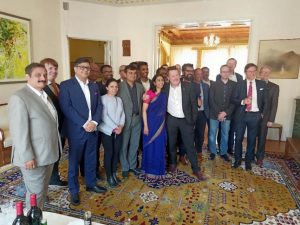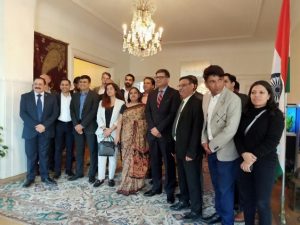 Networking Reception hosted by the Embassy of India in Finland and Sweden by Smt Vani Rao ( Indian Ambassador to Finland & Estonia) and Smt Monika Mohta ( Indian Ambassador to Sweden)