Leader Talk: Interview with Mark Kahn, Founding Partner, Omnivore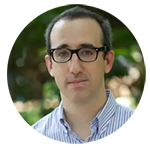 NASSCOM staff writer in conversation with Mark Kahn, Founding Partner, Omnivore. Mark Kahn is a Founding Partner of Omnivore, an impact venture fund that invests in Indian startups developing breakthrough technologies for food, agriculture, and the rural economy.  Mark serves as a Director for multiple Omnivore-backed startups, including Skymet, Eruvaka, and MITRA.
Previously, Mark was the Executive Vice President (Strategy & Business Development) at Godrej Agrovet, one of India's foremost diversified agribusiness companies. At Godrej Agrovet, Mark was responsible for corporate strategy, M&A, R&D, and new business incubation. 
Earlier in his career, Mark worked for Syngenta and PFM.  He earned a BA (Honors) from the University of Pennsylvania and an MBA from Harvard Business School, where he graduated as a Baker Scholar. Mark is Co-Chair of the HBS Impact Investing Alumni Group, a member of the Confederation of Indian Industry (CII) National Council on Agriculture, and a member of the Ag Innovation Showcase Advisory Committee.  
1. Mark, back in 2010, when you decided that Omnivore would focus on agritech, food and rural livelihoods, it was a bold decision. Was there a conscious bias for social good or did you see that as a good business opportunity?
When Jinesh Shah and I got the idea to start Omnivore, I wasn't new to the agricultural sector and its challenges. Having spent many years working in agribusiness, I had a clear understanding of the challenges faced by smallholder farmers.  It struck us that there were many startups in India working passionately to develop new technologies for agriculture and food, but no venture funds would invest in them.  We saw a huge business opportunity that no investor was addressing.
That said, creating social impact has always been a key guiding light of my career.  It might surprise you, but prior to attending HBS, I actually started my career working in American politics!  I eventually realized that business had the potential to create maximum impact on society, and pursued a career in agriculture because of my passion for rural development.
 2. Now interest in the agritech sector is on the rise and in next few years we may see massive amount of funds flowing into the sector. How would you caution investors? How is this sector different and what should they watch out for?
Investors should focus on breakthrough innovations as opposed to business models that require huge cash burn.  They should also recognize that the gestation period for agriculture is longer than for other sectors, and plan accordingly.  Seasonality plays a huge role in agriculture and cannot be avoided.  For example, if you are targeting soya beans, they are farmed during the Kharif season, so you need to time your product launches accordingly.    Partnerships with agribusiness intermediaries will have to be established at an early stage because value chains are complex and partners will allow startups to leverage their scale and reach more farmers.
3. As per your experience, what are the top 3 challenges for an agritech startup in India?
Smallholder farmers have limited ability to pay, so you need to innovate products they can afford.
There is a talent crunch in agriculture that must be overcome to scale.
Despite the presence of funds like Omnivore, there is limited capital for agriculture startups in India.
4. A few of the Indian agritech startups have found clients outside, in Africa and Southeast Asia. Is that a viable model? What sort of monetization model do you advise to the startups you are invested in?
Indian startups are a hybrid of Chinese startups, which only look at their domestic market, and Israeli startups, which target global markets from their inception.  We believe that Indian startups can focus on the domestic market while also pursuing select opportunities in other emerging economies that value technology for smallholder farmers.  Regarding monetization, we advise startups to focus on B2B2F models, where they sell to agribusiness intermediaries that in turn get their innovative products and services into the hands of farmers.
5. In an earlier interview, you had said that Omnivore will not look at early exits. Given that both monetization and profitability are still untested propositions in the sector, how do you look at this scenario?
Frankly, there's no real need to look at an early exit because the monetization model of B2B2F is working well. Selling directly to farmers also works in agricultural subsectors.  Between PE secondaries, strategic acquisitions, and IPOs, exits are happening and will accelerate in coming years.
6. What role should the government play?
The government should focus on creating a stable policy environment for agriculture and agribusiness.  Ever-changing export rules, import duties, and sector regulations are radically limiting the potential of the agriculture sector.  Much of the Indian economy was liberalized in 1991, but agriculture is still being held back.  Government should set the rules and get out of the way.
Want to read the other interviews in the series? See them with leader talk