Start-ups Catalyst: Accelerators and Incubators
Nurturing plays a crucial role in the growth of the child. The same is applicable for a start-up which starts with a small dream and a great idea but needs a proper nurturing to scale heights.
Incubators and Accelerators in India have been playing the same role. Incubators give start-ups the basic necessary needs to set-up infrastructure, develop prototype and get ready with the product. These all things might look small but start-up have always struggle in the initial phases only.
With over 520+ incubators and accelerators, India have done well compared to other countries and ranks 3rd largest in terms of active programs.  More than 80% programs are incubators and 50% got incepted in last 5 years showing the clear dominance and the need for nurturing the start-up rather than finding the market for them.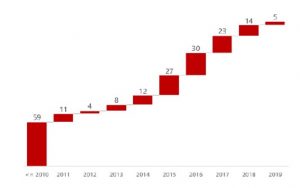 No. of programs, incepted by year
 But the programs hosted by these incubators and accelerators are quite different with each have their own capabilities and KPIs. The operators of these incubators and accelerators play a vital role in running these institutions.
Academic Operators: Set up and operated by an academic institution with involvement from faculty. They are the dominant operators in this ecosystem and are home for almost 80% of the incubators. Academic is the major reasons for this ecosystem growth over these years.
Public Operators:  Set-up and operated by a Govt. agency/body or an Industry association, public programs are growing in number and contributing to geographical expansion of this ecosystem.
Corporate Operators: Set-up and operated by a large Indian enterprise or Global MNC –with a full-time team, they are the most active and efficient programs creating the maximum impact. They have the lowest share in this ecosystem but high market access, technical expertise and business expertise make them unique.
Private Operators: Set-up and operated either by an investor or a group of investors, these program have seen a slow growth. They are majorly focused on accelerators model to get return on investments.
Indian programs are doing a great job but still leave a scope of improvement and learning from their global peers. These incubators and accelerators can give a big boost to the start-ups and hence needs to be constantly improved and managed for the long term sustainability of the ecosystem.