The Strategic Shifts in Start-up Ecosystem
The Strategic Shifts in Start-up Ecosystem
The startup ecosystem in India is no more the same as it was 5-7 years ago. Startups have not only risen in numbers but also upped their game in terms of strategy, innovation, product, technology, and several other aspects. One can call it an approach for long term sustainability or developing customer-specific solutions, etc., strategic move.
Artificial and Machine Intelligence Adoption: Verticals such as Enterprise, Fintech, Health-tech, Retail & Retail tech, and Agritech have witnessed a high adoption rate of artificial intelligence and machine learning. There is around 3 to 29 percent of startups that are leveraging AI in these verticals. Even some 9-24 percent of startups are also leveraging IoT and Blockchain under different verticals.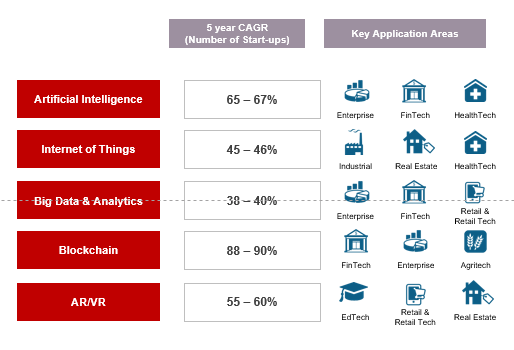 70% of startups incepted in past five years belong to AI, Data Analytics and IoT
Startup hubs are now no more limited to metro cities. With CAGR of over 50% since 2014, new regions like Ahmedabad, Jaipur, Kolkata, Kochi, Thiruvanthapuram, Kanpur, etc. see a lot of new starts up emerging. Founders are leveraging cost arbitrage and assistance from academic and government initiatives in such areas to build new solutions.

150+ funded startups in emerging startup hubs
New use cases are getting created by startups to innovate in mature sectors like Fintech, Enterprise, Healthtech, and Retail. Solutions like network security, cloud optimization, cross border payments, internet first banks, tech-driven medical diagnosis, social commerce, etc. are growing at a rapid pace. Verticals like SCM & Logistics, Edtech, Mobility, Agritech, Gaming, Industrial & manufacturing, media & entertainment are undergoing substantial growth and investors are finding these verticals quite attractive.

The confluence of deep-technologies is giving rise to new use-cases and solutions
Targeting Indian SMBs and consumer segments: With markets maturing, the shift in focus is seen towards SMBs, and consumer segments as servicing them can unlock a broader untapped market. Income segments are going through a significant change as a fraction of the people with annual gross household income USD 15.4k is expected to increase from 8% in 2016 to 16% in 2025. The startups have very well targeted such a shift, and we can see many solutions focusing on user experience, personalization, and niche use cases. Solutions based on vernacular languages also saw a sharp jump to handle such customer segments. Solutions are also getting build-up for digital SMBs like low-cost ISP, WiFi management, self-checkout, product discovery, business process management, workflow management, etc.

Another Start: Successful entrepreneurs are turning into angel investors and are supporting new startups—a move which not only solves the capital-starved seed-stage ecosystem but also brings more capable mentoring to the first-timers. 55+ startup founders had actively invested in over 220+ startups in 2019.

All of the above can be viewed as an evolution, but it is more of a strategic move by the startup ecosystem to grow and sustain in the long term. With the rising issues in fundraising, increasing competition and struggle to convince investors, startups must not cease to make such strategic moves. What do you think?