How can small businesses survive during the COVID-19 crisis?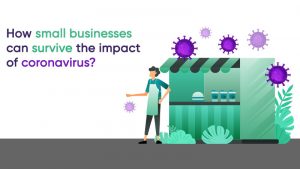 As consumers are staying home to prevent the spread of the highly infectious virus, also known as COVID-19, small businesses have been slowing down and temporarily closing. Without earning cash, many small businesses, streets restaurants, and shops — will soon have to cut staff or shut down for good.
Small-business are bracing for the worst economic scenario due to the COVID-19 effect.
"The regular cash flow is the lifeblood of these small companies," says Mills, who has been advising legislative and business leaders on possible solutions to help in recent days. "Money at the door helps you to put the money out of the house. Small businesses are vital to the economy of the nation whether there is a pandemic across America. But how can they survive during such an extraordinary crisis? Here are some ways that can support entrepreneurs.
Secure liquidity of the company
Access to cash is one of the key challenges for small businesses. Running any company is a risky undertaking, but small businesses are particularly vulnerable. According to the "Small Business Administration", only about half of the small businesses survive more than five years. Overhead costs such as leasing, payroll, and expenses leave very little cash for owners of the company.
Small business owners should advocate for efforts to provide immediate liquidity and keep companies solvent in order to combat this short-term challenge.
Ensure the value of the capital
Liquidity for franchise companies is just a part of the equation. The cost of goods sold in the service industry is primarily salaries paid to the employees. For small companies, debt loads from Small Business Association loans are popular and may generate additional strain on business owners. Layoffs are a major problem, with demand down and paid leave provisions now a reality. This is only possible when businesses take support from outside or make partners save the capital of the companies. Many of the big industries and the U.S. government have come to support small organizations.
Facebook said it would give small businesses $100 million in grants along with that it would also help fintech firms including Kabbage and Fundbox, specializing for loans to help the market condition.
Contract with policymakers
There are many proposals in Washington calling for billions of aid to small businesses and may feel out of reach as we work from our cities, miles away from the capital of our nation. But in this moment of crisis, our voices are vital and we should not leave the big business when they speak for us in the emergency situation when this crisis is impacting us.
Now, big corporations and government agencies may provide relief by just paying unpaid bills for small organizations. Large companies tend to postpone payments to vendors to save cash as economic problems grow. Mills recommends that organizations reject that tactic when it applies to small businesses and pays bills to support not only the vendor but also to save the American economy as soon as possible.
Small businesses, around the world, are the very foundation of our communities. This is a crucial time for all of us. When we lose these small businesses, our cities will look very different, and it will take a long time to get back the industries that we will have lost.
---