In The Spotlight: This Startup Is Providing Remote Tech Support to Chinese Field Hospitals In Wuhan
The world is facing one of the worst pandemics in recent times. COVID-19, commonly known as Coronavirus made a prophetic debut in late 2019 in China's Wuhan province. It's been nearly 60 days and since then, the virus has been spreading steadily across the globe at an alarming pace. To date, nearly 2,200 people have succumbed to the virus, while nearly 75,000 people have been affected.
When Chinese state officials got wind of this rapidly spreading virus, they announced the construction of a field hospital called Huoshenshan Hospital – a 1,000-bed facility spread across 60,000 sqm with 30 ICUs, quarantine wards and medical equipment rooms. To date, medical personnel are tirelessly working on patients, providing round-the-clock care. The massive facility needs a continuous flow of essential supplies like any 24/7 hospital, which meant continuous facilities management operations that includes air conditioning, electricity supply and water supply among others. However, with Wuhan being shut off completely to abstain from the further spread of the virus, sending technical personnel to supervise facilities management was not an option, and it became evident that another solution was needed to ensure the hospital was running to full capacity all the time.
BlinkIn – Delivering Remote Support Using Digital Technologies Anywhere
This is where Bangalore-based startup BlinkIn came into the picture. Co-founders Harshwardhan Kumar, Nitin Kumar & Dhiraj Choudhary chanced upon an incredibly significant opportunity to help China in the fight against Coronavirus. BlinkIn provides computer vision AI & Augmented Reality SaaS product that offers solutions using a combination of deep learning, big data & proprietary computer vision algorithms, to provide customers & support executives with intelligent visual assistance. They combine insights from general probability-based models & systems neuroscience, allowing the architecture to train faster, adapt readily and generalise more broadly than commonly used AI approaches in the market.
They work with a range of clients in several sectors such as insurance, consumer electronics, technology support, automobile, aviation & manufacturing. "Improved process automation, cost efficiency and delightful customer experience in today's digital age are just some of the benefits of working with a company like BlinkIn," says Harsh.
How Is This Technology Helping in China's Disease-Stricken Wuhan?
With a Germany-based cofounder Josef, Harsh, Nitin & Dhiraj have been developing BlinkIn solutions for several clients in Europe. One such client is Huber + Ranner CN – Germany-based designers & manufacturers of air handling systems. They were tasked with the responsibility of delivering ventilation units for two hospitals in Wuhan in a matter of a few days. The company has a digital platform called X-CARE, to service HVAC systems and devices. One of the most recent additions was pure web-based augmented reality online service tool, powered by BlinkIn. BlinkIn guides users, automates processes and allows a large amount of autonomy of control by the user. With AR users can collaborate to understand and resolve the challenges and issues –saving money, time and effort. In addition, BlinkIn offers one-click remote assistance. Through X-CARE, technicians back in Germany were able to monitor the precise installation of the Air Handling Units (AHUs) in the Wuhan hospitals. In just five days, 16 hygenic weatherproof AHUs and 64 heating AHUs for Wuhan's hospitals were delivered. Further, 96 Hygenic AHUs for Shanghai CDC will be delivered in 10 days.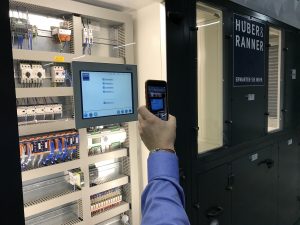 This timely intervention helped medical personnel on ground in Wuhan to continue their efforts to contain the spread of the virus and avoided putting more people in harm's way.
Digital Technologies Providing Modern Solutions To Modern Challenges
The virulence of Coronavirus has baffled the medical and research community worldwide. Scientists are still trying to figure out a cure to the disease, which the China government is working tirelessly to contain. At such a time, the application of remote technologies proves that such interventions can be highly critical. There is often a lot of talk about getting solutions from lab to land – and this particular story is a thriving example. BlinkIn uses the
In The Spotlight features NASSCOM CoE startups breaking new ground in technology & innovation. Write to sindhuja@nasscom.in for further details.