Deployment of Internet of Things are on the rise
The Internet of Things (IoT) is poised to disrupt our lives. While IoT can be leveraged across a variety of industries and use cases, companies are just starting to recognize how IoT implications can impact the customer experience. At its simplest, the IoT is the idea that wireless communication and digital intelligence can be embedded into everything around us. It is actively shaping both the industrial and consumer worlds. Smart tech finds its way to every business and consumer domain from retail to healthcare, from manufacturing to logistics. Thus, a missed opportunity by a competitor can easily qualify as a long-term failure for companies who don't innovate.
With the rise of Industrial IoT and Digital Twin technology, there would be an expansion of IoT being implemented end-to-end starting with manufacturing, aviation, agriculture to consumers and beyond. Research by Global Data Technology indicates deployment projects undertaken in 2019 will continue throughout 2020 generating more data. The dedicated data pool generated through IoT provides decisive insights based on where the activity is occurring across specific regions, sectors and the use cases.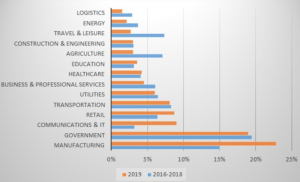 IoT Deployments by Industry Sector in 2019 (and 2016-2018); Source: GlobalData Technology
The biggest change in the IoT is the frequency of deployments with a global remit and varied use cases. According to Global Data, the global deployments increased from 11% during 2016-2018, to 26% of all deployments.
Sectors taking the lead
Comparing various implications of IoT, reflects the growing signifcance of the industry embracing operational technology, digital twin & modeling, shop-floor digitization, application of sensors across a value chain. Manufacturing sector accounted for the largest number of IoT deployments with 23% of the total (compared to 15% in 2016-2018)
Use cases that are on the rise
Though manufacturing is the leading sector in deploying IoT more frequently than other sectors, IoT applications are inclined toward a mixed trend. While condition monitoring was the most frequently IoT adopted use case followed by smart city, asset tracking and telematics that combine automation with analytics inferred from sensors has been an impellent cause in deployments. One of the most prevalent and notable use case is predictive maintenance involving equipment which has been networked to central control to optimize production and reduced unplanned downtime. While these trends are in solution, even greater focus recently on business and operational efficiency indicates increased IoT deployment activity to attain maturity across enterprise sectors
An opportunity for the entrepreneurs
IoT's undisputable impact has and will continue to lure more start-ups. Larger players are looking for ways to apply the interconnectedness which IoT offers addressing services and products efficiency. The affordability of data storage, inferring business insights and accessibility of software platforms and sensors demonstrates that it is no longer restricted to certain businesses and industries. New businesses operating in manufacturing, healthcare, agriculture or any other sector have stiff competition, hence start-ups who adopt IoT technologies solving combinatorial problems can be benefitted tremendously.
The dominance of IoT is evident in the boundless opportunities because it is a massively growing area of technology. It is paving way for many digital trends, easing out connectivity and communications. Also, it has helped businesses in making smarter and faster decisions driving innovation at the industrial front.
---