Gramcover: De-risking Rural Indian by harnessing the twin levers of technology and rural human capital
A doorbell rings at a house-hold in Kalkaji, the lady of the house comes to see who's at the door. She had ordered her groceries from Grofers and is greeted by the ever-smiling delivery boy holding a big bag full of her regular Arial and Atta. As soon as the delivery boy finishes, keeps all her groceries on the dinning table, he asks- "Madam, card ya cash?". Madam says- Card le lo and the grocery boy attaches his m-pesa machine to his phone and gets paid for the right amount including the paisa charge.
A regular feature in our daily lives, we would all agree!
Now imagine this.  A farmer in a rural and interior area of India wants to buy crop insurance. He has put his entire savings into farming 2 acres of land which he has got on rent from a landowner by agreeing to share a part of the revenue that he makes out of the sale of his produce. It is imperative that he covers his crop under a crop insurance scheme to ensure protection against drop in yield due to unforeseen circumstances. In this scenario, a local representative reaches out to him, collects the various documents from him, converts them into digital documents and then asks him to make payment electronically using his Ru-Pay debit card which is linked to his Jan Dhan account. Seems unlikely, right? But this exactly what Gramcover Insurance Brokers have done in the recently concluded Rabi season.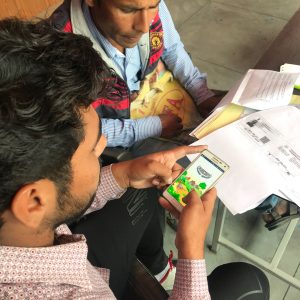 In Rabi 18-19, in Himachal Pradesh, Gramcover Insurance Brokers worked with a leading agri insurance company to on board non loanee farmers by collecting premiums using M-Swipe machine (Portable debit card swipe machine) wherein farmers paid their premium through Rupay debit card.  Approximately 10 % farmers used debit card for the payment of their premiums. The convenience offered by this approach to farmers who do not need to go to banks for doing NEFT / RTGS transactions into the account of insurance companies is a huge enabler for the farmer and helps in making his life simpler
Insurance penetration in India is significantly low and the issue is even more acute in rural India. The challenges that impact insurance penetration in India are well known ; it starts from lack of awareness, is compounded by lack of relevant products which are rightly priced  and the lack of last mile distribution network and finally culminates with a lack of trust in the ecosystem to deliver when it matters most – at the time of claim settlement.
Gramcover, an IRDA approved composite insurance broker, with the motto of "Derisking Rural India" is focussed on creating a unique technology led insurance distribution and servicing model which can leverage the rural human capital and make insurance available seamlessly to the rural population. Post receiving its license in December 2017, the team at Gramcover has worked with multiple insurance companies to provide coverage to non loanee farmers under the Pradhan Mantri Fasal Bima Yojana (PMFBY). In the last 3 seasons starting from Rabi 17-18, Gramcover has enrolled more than 1.4 lakh beneficiaries under the scheme.
Jatin Singh, Founder & Chairman at Gramcover believes that – "We need to see our population as an advantage. Large rural population implies wider spreads for insurance risk pools. That should drive down premiums. I think we don't need subsidies. We need to use financial instruments like insurance to insulate our rural folks. Financial inclusion is the key."
To realize this vision, Gramcover is investing heavily in strengthening their technology platform to make a number rural relevant insurance products available digitally. This includes product integration with insurers, payment gateway integration with fintechs and partnerships with relevant stakeholders in rural India.
Gramcover is all about creating a safety net for the rural population through insurance. Something to fall back on in difficult times which will make them more resilient and able to take up life's challenges head on. We are harnessing the twin levers of technology and rural human capital to reach out to and make a difference in the lives of Rural "Bharat".
letter of appreciation – this letter was given to us by Deputy Director of Agriculture of Bardhaman for the effort done by Gramcover Team on ground