COVID19: Webinar On How Digital Technologies Look Poised To Lead New Era In Smart Manufacturing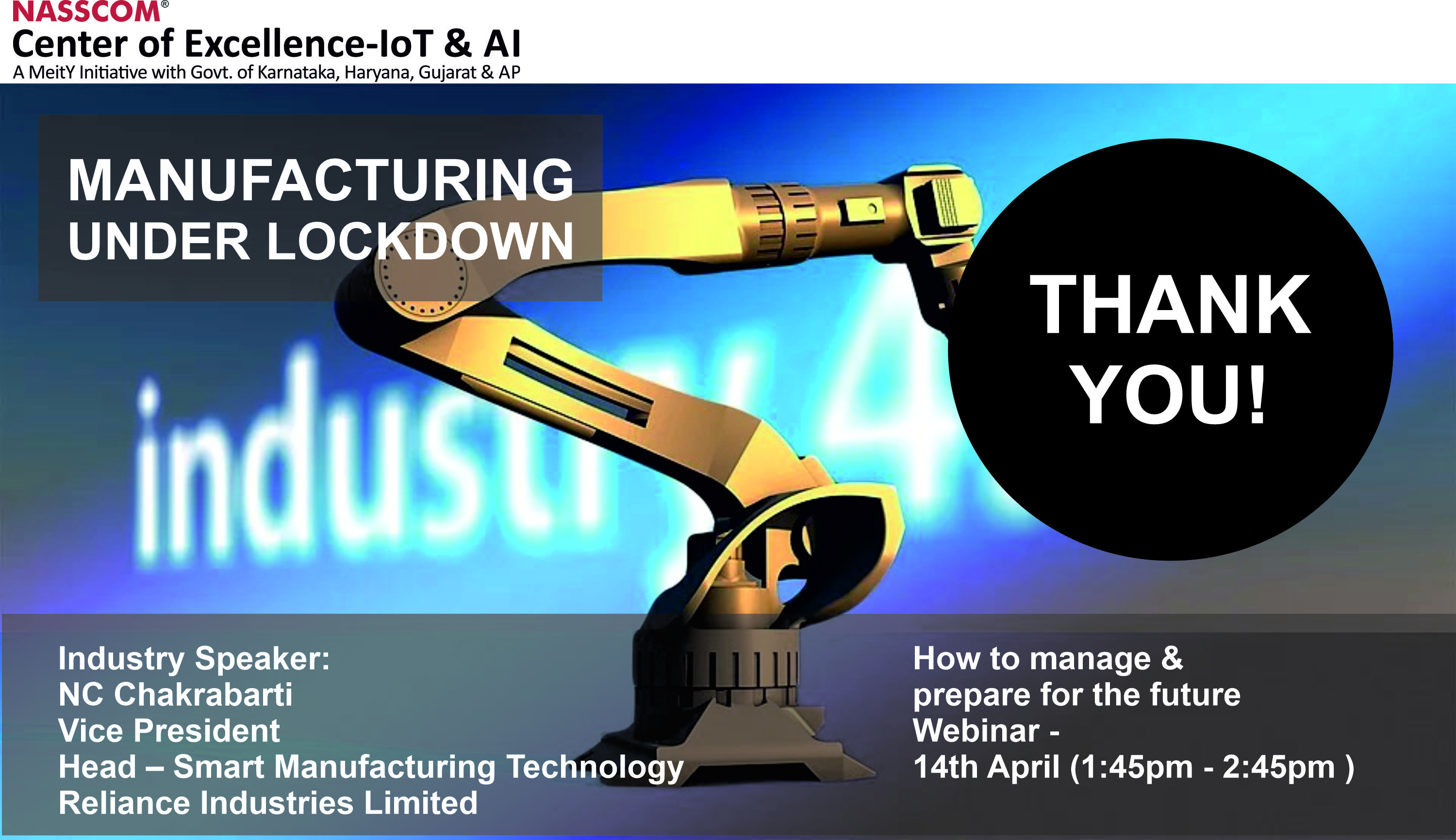 NASSCOM CoE Gandhinagar conducted the 1st edition of Manufacturing Under Lockdown – a series intended to help and guide professionals on managing and navigating out of lockdown in manufacturing. More than 300 people registered and 170+ professionals across manufacturing enterprises joined this program.
Summary and key takeaways from the webinar:
NASSCOM CoE, an initiative by Meity and state Governments of Gujarat, Karnataka and Gurugram, is the biggest nationwide platform for innovation sandbox to solve real complex business problems, collaboration across the best minds from industry, academia, start-ups, and Government, and to develop the right platform for future technologies. FUSION4.0 was introduced as an initiative dedicated for Industry engagements and developing collective capabilities.
Keynote sessions summary
Transformation in Manufacturing post lockdown: Mr Amit Saluja, Senior Director and Head of NASSCOM – Gandhinagar CoE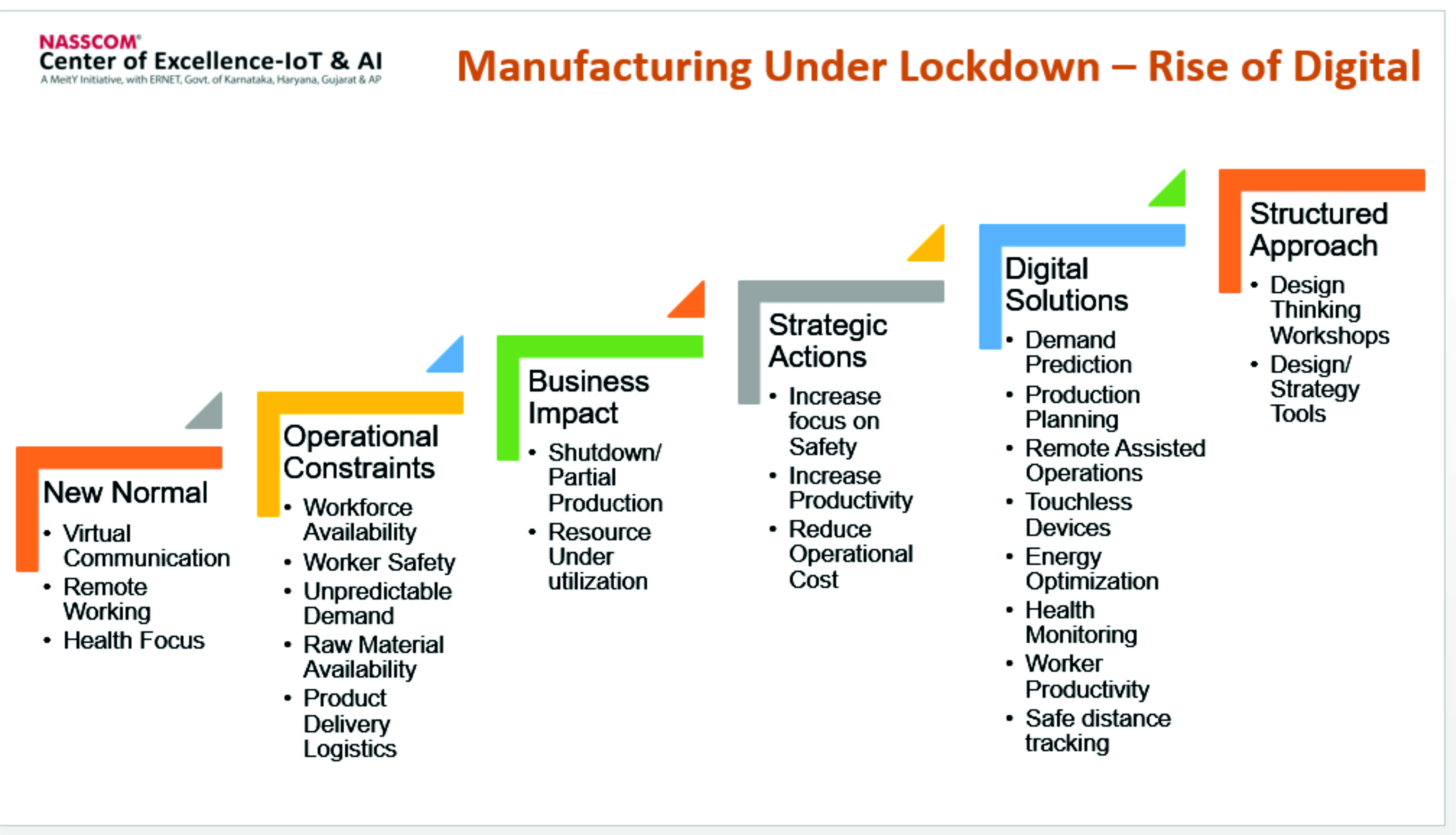 Manufacturing Leaders are faced with very tough question of how to balance between people's safety and business continuity. What seems certain in this era of "New-Normal" is that digital will rule the world. Looking at the plants that are operating now, fully or partially, digitisation done earlier would have definitely helping them to produce more with limited workforce. Every organization, large or MSME should use this time as an opportunity to accelerate adoption of AI, IoT and Analytics to integrate customers, employees and vendors through digital platforms. We need simple and easy ways to improve worker productivity & safety and reduce operational costs. Design thinking is a proven methodology under these kind of scenarios and the tools under it needs to be leveraged as much as possible.
Covid-19 is redefining our manufacturing processes – How to prepare for the future: Mr NC Chakarbarti, Vice President and Head, Smart Manufacturing, Reliance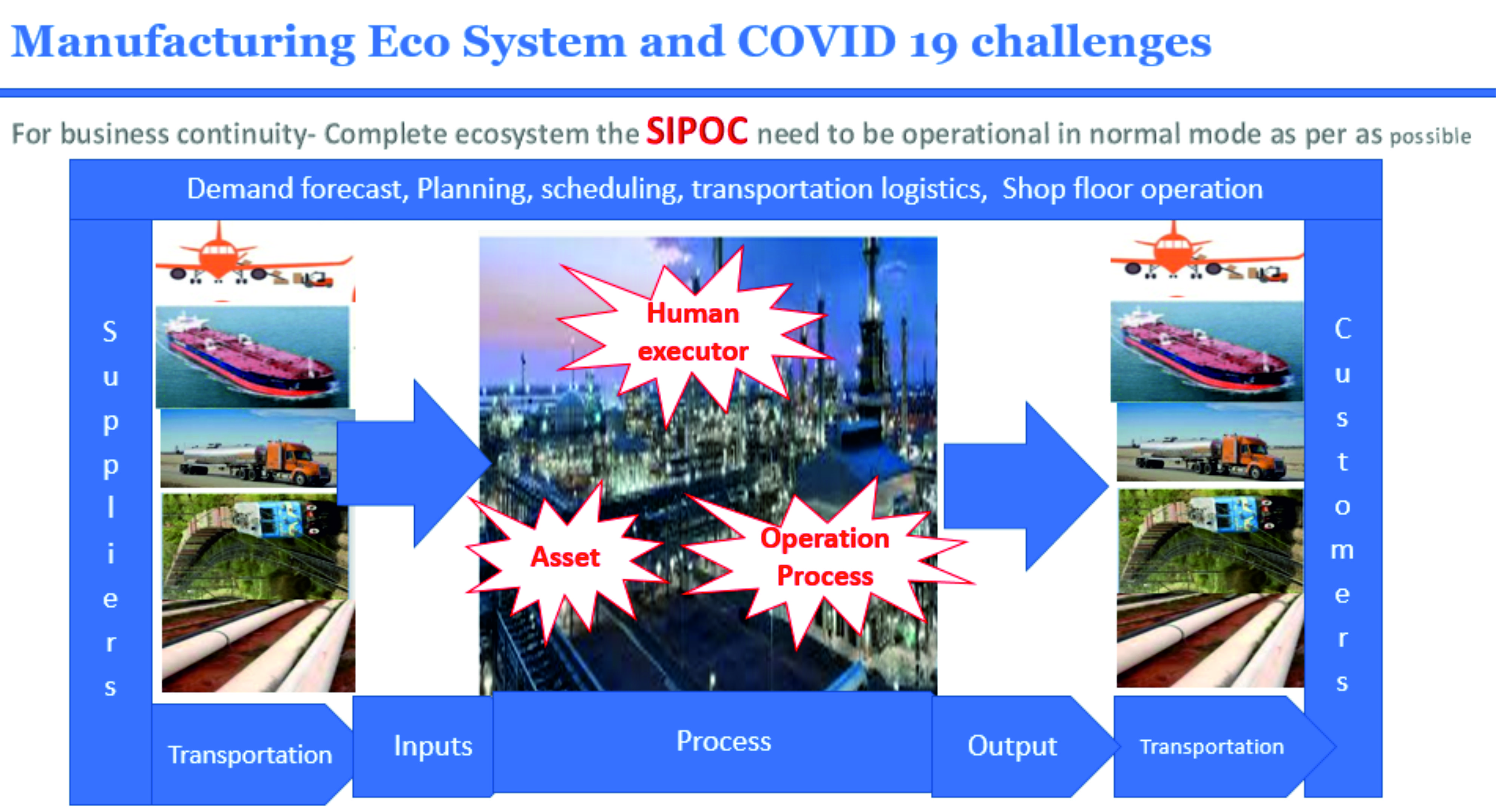 Survival of the manufacturing will depend on how effectively we implement social distancing without work distancing. We need to protect the workforce while keeping operations running as long as possible and keep the wheels of economy moving.. This can be done by reducing touch points and, human exposure thereby increasing protection. Companies are repurposing their operations/ production lines to join the fight with Covid-19. For business continuity, complete supply chain ecosystem (SIPOC) needs to be operational in normal mode. Blend of IoT and Industry 4.0 technologies can help us to minimise the impact of lockdown and of any unforeseen future disaster – natural or manmade. 42% of the Industrial downtime is causes by asset failure, hence Its absolutely critical to prevent machine failure by analysing machine data to identify patterns and predict failures before they happen. Connected Helmets can help to monitor worker's health parameters. be of big help Sensors AI led Wearable devices can help.
Digital Solutions for Manufacturing under lockdown: Sessions Summary

Online Health Monitoring of Workers – By Mr Suraj Rajan, Founder, Alluvium IoT 
Kavach, IoT based workforce management solution gives near real time access and visibility of your Workers across the Plants. Location data can help in tracking worker movement and access. Environment data helps in assessing working conditions in harsh environments and Health data, which is of utmost importance now can help in getting early warning of worker health issues.
Remote Assisted Manufacturing Operations – By Keyur Bhalawat, Founder, Plutomen Technologies 
Remote assistance product leverages augmented reality to enable collaboration between Field Service Engineers & Offsite Employees for Remote Troubleshooting, Inspection, Installation, Maintenance, Repair & Training. This helps in technical experts staying in office location and supervise the operations remotely. While these solutions helps to avoid sending all employees to site, it also reduces the cost of operations.
Reducing touchpoints in the plants – By Ankit Dave, Founder, Indolytics
Employee Safety is the biggest concern and standard operating procedures are still getting prepared to work in current situation. Employees are low at confidence with the fear of catching COVID19. and their safety is the biggest concern for all the Sectors including ones which are in operation right now and which will re-open post lockdown. Social distancing solution can send automated alert to the employees on their Android Phone when they are Closer than 6 feet to each other within Workspace. Facial recognition based solutions can help to make the attendance management and security systems touchless thereby reducing the chance of getting infection
Digital transformation has become the inseparable component of manufacturing sector and has to be adopted by industries of all sizes. Instead of reinventing the wheel, the smart approach is to adopt the innovations from startup ecosystem with a layer of required customizations, which these innovators are always happy to incorporate. NASSCOM CoE has developed such models of collaborative prototyping, already proven with number of industries and is committed to create more such success stories.
On popular demand, a second edition of Manufacturing Under Lockdown is scheduled for May 11th, 2020. Register Now – https://gujarat.coe-iot.com/broadcast/11may/30april-local-with-bg.html