Artificial Intelligence at the Edge
The need for real-time decision making is pushing AI closer to "the edge", giving devices the ability to process information and accelerate machine learning tasks locally. Deloitte predicts that in 2020, more than 750 million edge AI chips are expected to be sold. Further, by 2024, the sales of edge AI chips are expected to exceed 1.5 billion, representing more than 20% annual unit sales growth[1]. The reason behind this rapid growth lies in the fact that edge AI chips are increasingly finding their way into consumer market, in addition to enterprise edge devices.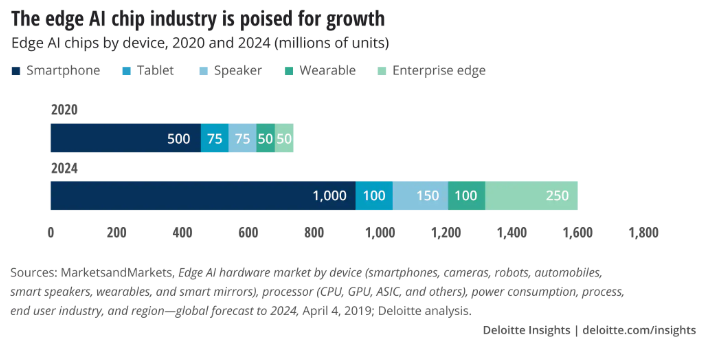 Majority of the consumer edge AI chips will be in high-end smartphones, accounting for more than 70% of all consumer edge AI chips currently in use.
Benefits of on-device intelligence
Edge AI chips enable organisations to increase their ability to not only collect data from connected devices, but also analyse the data and drive data-driven decision making, while avoiding the cost, complexity, and security challenges associated with storing data on the cloud. The cloud however remains critical and cloud-based AI will continue to complement on-device processing for pooling of big data and training results for many AI inference algorithms running on the device.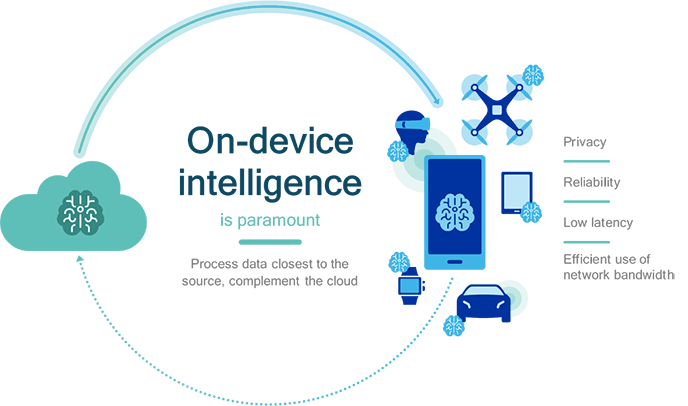 Source: Qualcomm[2]
Edge AI use cases
With the growth of edge AI across applications NVIDIA, Apple, and multiple other emerging startups are building chips exclusively for AI workloads at the edge. Further, a convergence of several overlapping technology trends including IoT, computer vision and robotics, is making new usages possible. These use cases not only help improve quality of life and business but also help solve problems being faced by consumers and businesses today[3].

Source: CBInsights[4]
Road Ahead
The rise of edge AI chips is expected to drive significant differences for both consumers and enterprises. For consumers, edge AI chips will unlock incredible possibilities that they will be able to leverage without an internet connection on their smartphones. However, long term, greater impact of edge AI chips is expected from the use in enterprises, enabling organisations to take their IoT applications to the next level.
References
[1] https://www2.deloitte.com/us/en/insights/industry/technology/technology-media-and-telecom-predictions/2020/ai-chips.html
[2] https://www.qualcomm.com/news/onq/2017/08/16/we-are-making-device-ai-ubiquitous?cmpid=oofyus181544
[3] https://www.intel.ai/artificial-intelligence-at-the-edge/#gs.x4as6n