2nd Digital Innovators Meet: How Can Startups Tide Over COVID19-Induced Lockdown And The Challenges After?
The 2nd Digital Innovators Meet took place virtually, with more than 30 startups attending the session led by Digvijay Singh, COO of Indian Angels Network & Amit Saluja, Senior Director and Center Head, CoE Gandhinagar 
Managing Businesses Under Crisis: Amit Saluja, Senior Director & Center Head, NASSCOM CoE Gandhinagar
We have seen multiple phases of recession with last big one happening in 2008 and after that had one of the longest growth phase that lasted 12 years. Takeaway is bigger the recession, longer is the growth period after that. There is a wide level apprehensions that Covid is leading us into another big recession. There is uncertainty prevailing, nobody knows how the market will react post lockdown. We can't say how long will be this period of uncertainty but few things are sure, after a slack period, Digital will be key enabler of next phase of growth and technology startups will have big role to play.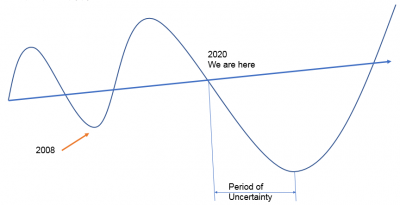 Startups should take this period of uncertainty as an opportunity to re-look at the product portfolio and evaluate how relevant current solutions will be in the new market scenario. Best strategy in current time will be to sail through the storm by keeping cost under control and spending all energy in creating new products or customizing them to be ready for the future. Business model canvas is a great design tool to build the business strategy. We all should be back on drawing board and rebuild the canvas to help us stay focused with our execution plans for rest of this year.
In this challenging time startups should be helping each other, it could be possible few of the startups compete with each other but still it's critical to work as a single team.  "Individually we are one drop but together we can be an ocean".  Bringing all our individual solutions together can make us act like a corporate that large manufacturing enterprises would love to work with.
Market Opportunities in Current Times: Mr Digvijay Singh, COO, Indian Angels Network
Lock down situation has changed customer needs across the sectors and even how customers prefer to communicate. There are few sectors which are booming, like online learning, farm to home, logistics, healthcare, and medical science, these are the sectors where even government is providing extended support.
This is rude awakening call to every industry. Especially to industry which were reluctant to adopt IoT solutions. Technologies/industry backed by IoT are in high demand as it reduces human presence, which in present time is very critical. All the IoT & AI based startups should offer solutions where there is an opportunity to increase safety and reduce human interventions.
With the changing customer's demand, COVID -19 has also changed the whole business scenario as the products and solutions that are in demand now might not be relevant in future. Everything is now online. If it's not online it cannot be in business.
Sentiments of the market are low. This is the time to analyze your customer. "Don't get married to solution, get married to problem ". Revisit the problem, revisit the customer, and revisit the solution. Don't get frighten, don't look back. This is the best time to test your product. This is temporary phase, problems like Covid will keep on coming, recession has happened in the past as well. Magnitude of the recession can be different
Startups who received good funding in last few months might find themselves in difficult situation now as they have got the money to do business but they can't do, at the same time they are loosing big money on the regular fixed expenses
Startups should prepare plan A if this situation continues for 3 months, Plan B if this continuous for 6 months or one year. Startups should enable their employees and try to retain all the employees. Involve employees in decision making, it will make them feel empowered.
Key Takeaways
There is uncertainty in the market, after period of uncertainty, growth will be back with bang, we should be prepared for the growth.
We should synergize in this tough time and work as a team to act like a corporate
Everyone should build or re work  business model canvas, which will help to re align offerings as per changing market demand.
COVID – 19 has changed the market, it has changed client behavior, client demand and also how clients wants to be served.
There are few sectors which are booming, it includes Healthcare, online learning, farm to home, logistics
Technologies/industry backed by IoT are in high demand as it reduces human intervention
Don't get married to solution, get married to problem
Revisit the problem, revisit the customer, and revisit the solution. Don't get frighten, don't look back, this is temporary situation.
Startups should have multiple plan in their pockets and execute as per the market situation
For more details on the Digital Innovators Meetup or to know more about NASSCOM CoE programs reach out to, Yagndeep Gohil at t-yagndeep@mail.nasscom.in or visit http://gujarat.coe-iot.com/