Digital and Inorganic Growth: Drivers of India's IT Bandwagon
Digital continues to be the main stream
Digital has been and continues to remain the key focus area for Indian IT companies. The share of digital has been on a continuous uptrend for all who report their share of Digital revenues.
| | | | |
| --- | --- | --- | --- |
| Company Name | FY 2018 | FY 2019 | Q3FY20 |
| Infosys | 25.5% | 33.8% | 40.6% |
| Wipro | 24.6% | 31.9% | 39.8% |
| Persistent | 21.3% | 22.7% | 23.2% |
| LTI | 31.8% | 36.5% | 41.0% |
| Zensar | 38.2% | 44.7% | 54.1% |
                  Source: Company Report; NASSCOM Analysis
Also, though the focus on Digital transformation continues to be led by the biggies – mid-tier firms are also joining the Digital party which they want to enjoy harder in the coming quarters!
"Mindtree's strength has been mostly on digital and there is tremendous focus in terms of going further on the digital journey that we have already undertaken. Recently, we launched Immersive Aurora in partnership with PTC, which is an experience centre for AR/VR (augmented reality/virtual reality), and has been well received by clients. Our growth is going to be further built on digital. Growth will be also very customer-centric. I want to stay focused on my key strategic clients and continue to build deeper relationships and partnerships with them. As we grow, we also understand the importance of creating longer tenured contracts or deals." Debashis Chatterjee, CEO and MD, Mindtree ( March 09, 2020)
Inorganic growth remains a key Strategy though the numbers were smaller
Digital and ER&D remained the key focus areas for inorganic growth as per Jefferies Analysis of the top 5 Indian IT companies, with TechM and Infosys being the most active during YTDFY20.
Infosys acquired Simplus for $250 mn, its second biggest acquisition after $350-million purchase of Zurich-based Lodestone Holding AG in 2012. It also acquired Eishtec during October 2019
Tech Mahindra has announced 5 acquisitions through the year adding up to a total value of $200 mn
A key interesting insight here is that the share of smaller size deals have gone up in recent years compare to the five year period FY12-17; Highlighting the trend towards acquisition of smaller/boutique firms (incl. design studios) with digital capabilities
Over FY18-20 YTD, acquisitions valued below $25 mn accounted for 36% of total vs. 28% over FY12-17, while those valued above $100 mn dipped to 17% from 30% earlier.
This also resulted in lower value of acquisitions in FY20 compared to last year (See Chart Below)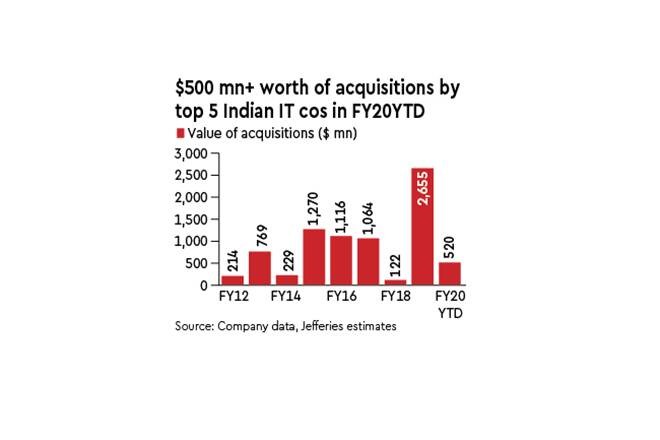 Notably, US remained the top geography for acquisition, accounting for 45-50% of deals over both FY18-20YTD and FY12-17.
Read more insights on how key trends shaped up for the Indian IT Services industry in NASSCOM's Strategic Review 2020 – Technology Sector in India 2020 – TECHADE – The New Decade Strategic Review