Is Work-from-home (WFH) the future working model for technology companies?
Global IT-BPM Sector Keeping the Lights On by Working Remotely
Though countries across the globe continue to fight the Covid 19 outbreak, technology companies are assuring there is no lockdown on work, and are keeping the lights-on to support global clients to run their businesses smoothly, amidst the growing uncertainties.
A recent survey by HFS research shows that the global IT-BPM industry showed a commendable shift in the way they operate by enabling over 75% of their workforce to work from home (WFH) within weeks. By regions China lead this trend, while Philippines lagged.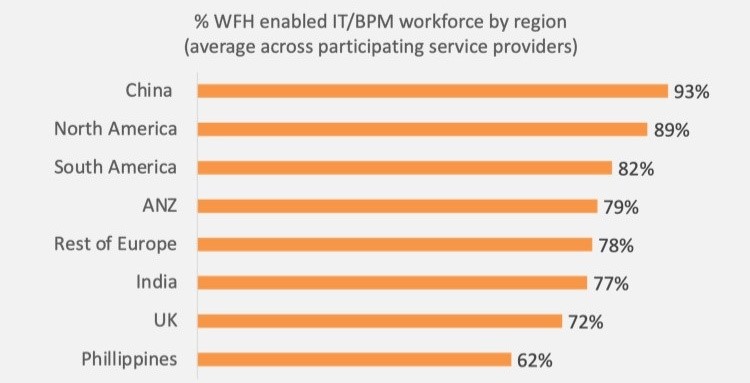 Source: HFS Research
Some key factors that helped companies in implementing the WFH included:
Early buy-ins from the clients by maintaining regular communications since the onset of the Coronavirus issue in February 2020.
Existing WFH platforms and infrastructure
Robust tried and tested Business Continuity Plans (BCPs)
Providers with delivery centers in China were able to learn from their experience.
Digital Solutions in place for virtual collaboration
Though, most factors worked in favor getting a large workforce to WFH did not come easy as the companies had to work around ways to tackle some critical challenges including:
Client Reluctance
Global BCP challenges as multiple location were hit
Network access including client networks as well as bandwidth availability for employees through hotspots
Procurement of laptops/ transfer of desktops for all employees
Top Indian IT firms have managed to have over 90% of their employees WFH
The top Indian IT firms which have released their results this month have highlighted their shift to WFH to the tune of over 90%, surpassing the country average of 70%.
As of April 15, 2020, 93% of Wipro employees were approved to work from home by customers with 90% of our employees being actually engaged in delivering projects globally (Wipro 4QFY20 Conference Call)
As of April 20, 2020, Over 93% of Infosys workforce was enabled to work from home, in countries still under lockdown, and from the company's offices, wherever possible (4QFY2020 results' company press release)
As of April 16, TCS had enabled close to 90% of our employees to work remotely and securely, through its Secure Borderless Work Spaces (SBWS) operating model. (4QFY2020 results' company press release)
WFH to be the future of work model for IT services companies? 
Notably, this trend is expected to continue even in the post COVID days with companies finding it a viable future of work model, which would be cost effective as it needs lesser office space!
TCS plans to see employees only spending 25% of their time in office by 2025. According to Milind Lakkad, Global Head, Human Resources. "In great crises lie great opportunities. Our Secure Borderless Workspaces model, which takes location agnosticism to the next level, represents the future of work and will improve our associates' quality of life. By 2025, we believe our associates will spend only 25 per cent of their time in an office."
In a recent press release TCS' COO NG Subramaniam commented "We don't believe that we need more than 25% of our workforce at our facilities in order to be 100% productive…. this move will be under a new model called 25/25, which requires far less office space"
In a recent press release, a former Wipro CTO commented "Over the next few months, companies will realize what can be done from home and clients too will gain comfort in this way of working. In time, this could mean more people would work remotely, even once the situation normalizes."
Overall, the current challenges have given new ways of working for IT companies solving for the current Corona virus crisis, but how things will span out in the future is yet to seen.