Leader Talk: Interview with Abhiraj Singh Bhal, Co-Founder, UrbanClap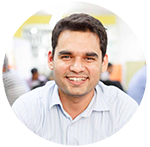 1. Please tell us what made you believe in this disruptive idea – that common services can be provided through a digital platform, and are competitive from a pricing standpoint. How does this model work so well?
UrbanClap was launched in November 2014 with the vision to organize the home services industry. In the absence of organized players, the market is froth with middle-men and aggregators, who control market access and keep a lion's share of the margins. Further, as there is no large, well-run, billion-dollar company in this category today, the industry lacks scale benefits – standardization, transparency and trust.
On the other end of the spectrum, we have Indian consumers who spend about USD 30 Billion annually on home services. They largely rely on word of mouth and friends' or family's recommendations for search and discovery. As a result, experiences are broken for both customers and end service professionals. The industry could easily be 1.5x-2x larger than it is today, if frictions in transaction journeys are removed – and experiences made more meaningful and memorable.
UrbanClap is building a fulfilment-led services platform to reimagine and organize the key verticals of this industry. At scale, this platform will enable 1 million+ service professionals to become micro-entrepreneurs and deliver high-quality services at home. The UrbanClap platform enables these professionals to become micro-entrepreneurs by helping them in 5 key areas –
• Unlocking market access: Working as an individual franchisee of UrbanClap
• Financing Access: bank accounts, access to loans, insurance, etc.
• Tech-led Service Standardization: Fixed pricing, clear deliverables, SOPs, delivery tracking, payment systems, reviews, etc.
• Training: Soft and core skills training at training centers and via the app
• Consumables Supply Chain: Bulk procurement of service consumables
This full-stack model benefits customers in three ways:
• High quality of service
• Transparent pricing
• On time, every time
Build to Last
We believe in the 80:20 Principle where 80% of the earnings are passed on to the service professionals. Our vision is to build a company to last and not to sell. It has to stand the test of time – that's our belief.
A large company someday, which is relevant to stakeholders and adds value to the society as well. Moreover, we believe in always sharing the value derived with our stakeholders. While not wanting to sound judgmental, we do believe that if we have to sell the company then it's like a product – it's no more a company! But of course we realize, everyone will have their place under the sun and some startups will have to sell eventually because that would be the right thing to do. In contrast, we have a long-term view of the company which we hope will outlive all of us. Eventually, we'd like to go public as well. While it's helpful to have a long-term vision but at the same time we are cognizant of the short and medium-term goal posts.
We have on-boarded about 20,000 service professionals so far. We want to take this number to 1 million by 2025, which means that we have to look at massive growth to be able to do that – the proverbial 10X growth path will have to followed in spirit. This will only be possible if we don't have plans to sell the company. We have to ensure that we are sustainable, our model is scalable, efficient in handling capital and that we are able to determine our destiny in our own land.
2. While recruiting your foot soldiers, what kind of checks do you carry out to ensure safety / security etc.?
Well before a service professional goes live, he/she will have to pass through 4 to 5 gates. Let me explain.
Gate 1: A background check is carried out with the help of a professional firm to ensure correct identity is provided and to find whether there are any criminal records filed against the individual.
Gate 2: On clearance at the first gate, they'd be called to office for an interview. This is done to ensure once again that the identity is genuine and the person has the requisite skills to undergo extensive training. The latter is carried out by the trainers and category managers. Sometimes, they have to undergo a written test as well which is objective in nature.
Gate 3: This is when the selected candidates undergo extensive training in their respective categories. The time invested can be anything between 2 days and 2 months, depending on the domain. We believe that professionals have to undergo training periodically as well to stay relevant. After the training session, only about 20% – 30% are finally selected.
Gate 4: Once they go live, there's no "life-time guarantee". A strict rating on a scale of 5 is used as a measure. In some categories acceptable range can be 4.2 – 4.5 and if it's not met, the professional is asked to leave. Moreover, we use a rolling average of 40 – 50 jobs. You mustn't think we are ruthless. If say for instance, the average for a certain category is 4.73 and if an individual is observed to be at 4.6, we intervene to ensure that additional training is imparted to bring the individual up to speed.
We have signed a MoU with the National Skill Development Corporation (NSDC) to mobilize, train and certify service professionals across India. As part of the agreement, NSDC will support UrbanClap to become a 100 per cent 'Skill India'-certified organisation under the RPL (Recognition of Prior Learning) component of Pradhan Mantri Kaushal Vikas Yojana (PMKVY).
We have invested heavily in training, infrastructure and capability-building. A lot of energy has gone into this and we are proud to say that we have 15 training centres with 100-odd trainers. Once professionals clear the training requirements, they are inducted into UrbanClap. You have to also realize that only about 20% – 30% make it finally. The others are equipped in a way to function independently.
3. What is data for you? Lifeblood or oil? Can you share with us your data strategy?
For any organization today to have a "Data First" mindset is absolutely critical for long-term sustainability and success. We use data almost in every area – matchmaking, capability utilization, outage support, customer support to offer personalized experience at all times.
We believe in Data Democracy (non-sensitive data can be accessed by our employees which leads to transparency). Of course, the need for privacy is observed at all times.
a) Our idea of data privacy is no less than what's stipulated in the General Data Protection Regulation (GDPR).
b) We continue to invest in building data capabilities – data warehousing, learning algorithms etc.
c) Compliance – we are 100% compliant with the Law of the Land.
4. How do you address cybersecurity and data privacy issues?
We realise how important these areas are and the RoI is not immediate, though investments can be high. But, there is no alternative. It's like buying a high-priced heavy lock. One realizes how important it is when someone tries to break-in unsuccessfully. Given the analogy growing companies must resist the lure of taking shortcuts.
Security is at most times, a defensive strategy. By partnering with Hacker One, a security firm, we've adopted an offensive strategy where we invite ethical hackers to break in and suggest the loopholes that need to be addressed. Cybersecurity has to be driven top-down to be successful.
5. What advice would you have for young entrepreneurs who have radical ideas? It's great to have disruptive thinking but should there not be a reality check? Or is it irrelevant? If you think it is relevant then can you please suggest some pointers / guidelines so that very young people are firmly rooted as they pursue their dreams?
Young people today, particularly the millennials, are very smart. While they receive advice from a lot of people, I'll just say this: "Do not take any free advice". And, think long term. At a philosophical level, I believe, the reward is in the journey and seldom in the destination alone. Have a missionary approach to building startups and not a mercenary one.
6. Funding – the big one! Especially Patient capital. The Indian scenario?
Well, the idea of Patient Capital is catching on and will get even better quite soon. One has to realize that whether it's VC capital or PE, the money will have to be retuned with an RoI of 3X (say) over a period of time – 8 to 10 years. Most founders like to operate expecting IRR of 14% – 15%.
While founders have to be cautious, it's wiser to focus on building the company and not be cowed down by borrowings. If you build a good company, capital follows. As you know, we got our Series E funding recently.
7. Which are the top 3 technologies that you work on. Eg. AI, Big Data, Blockchain etc. Can you please cite some examples and how the difference has been made?
Essentially, software is a piece of code and it will eventually eat the world. I don't believe any of these technologies can work in silos and we need to choose which combination works best for us. It's all about leveraging their combinatorial power.
8. What are the top 2 – 3 technologies which will work for India? Others that are likely to show a low response?
Most of these technologies will create disproportionately large benefits for adopters. In India, however, the approach may be different. For instance, right now we may not be seeing too many IoT applications in homes but there's significant traction in industrial, logistics and agriculture. The nation is already carving out its own path.
9. Your leadership mantra and big pivots for the future.
Mantra – Keep it simple and constantly improve upon teamwork. It's very hard to do the same thing over and over again, but that's the only way to get better.
Future Pivots – Integrate vertically and go deeper in home services.
10. Finally, do you have any regrets? Something which you may have done differently – in hindsight.
Nope, none at all! I have never lived a life of regrets.