My Journey into Creativity Tech: Dr. Amit Nagpal, Co-Founder & President, National Bloggers Alliance
You are only husband now
and Tech is your wife.
Be it MarTech, FinTech, HRTech or any domain, Ms Tech runs your life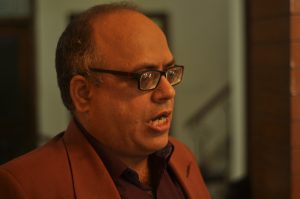 In the past five years, it seems everyone has got married to technology and no one is single anymore. Be it MarTech, FinTech, HRTech, EduTech, HealthTech, AdTech, PRTech, aren't all domains getting married to technology? Whichever domain we may be working in, Ms Tech is running our lives (and she has the best intentions to make our lives easier).
So when I noticed Mr Creativity was still living a boring bachelor's life, I decided to help Creativity have a date with technology. They found that they were made for each other. Soon creativity bent on his knees and proposed to technology and they have been happily married since then. Well I was the best man in the marriage and also got a chance to bless the couple & coin a new term "CreativityTech" on the auspicious occasion.
Let me share my journey how I met Mr Creativity and Ms Technology and ventured into my new relationship with the couple or CreativityTech.
Early childhood
I had penned my first poem when I was in Class VI. It was so horrible that it can be embarrassing to share it in public. During school and college, I wrote loads of Hindi poetry both patriotic and romantic and both were loaded with love. At the tender age of 14, my poetry was published in national Hindi newspapers and the media gave me the title of Baalkavi (child poet).
Anyways as I got admission in MBA and became part of the rat race, I moved from Hindi poetry to English poetry. Creativity thrives with passion but next one and a half decades were more about pressures and creativity began to take a back seat.
Regaining my lost creativity
Twelve years back I started practicing meditation and I slowly started realizing that my clouded thinking was changing to creative thinking. Very often creativity is inspired by seeing interrelationships between objects and people (including unrelated subjects). During the six months of regular one hour meditation, the creativity in me reached its peak. Meditation raises our consciousness levels and with increased consciousness, we can find relationships between things we were not able to co-relate at all earlier.
My creativity had come back with a bang and actually with a dose of inspiration added.  One well accepted fact about creativity is that creativity often has an inspiration. The inspiration can come from nature, your beloved (or muse) or divine and practice makes a creative man/ woman perfect like any other domain.
Ms Technology Walks In
I almost had a tech phobia during my MBA days. I hated programming, MS DOS and pre Windows computers. Soon the user friendly Windows 95 came was launched and my tech phobia turned in to fascination for technology. I loved spending time on my computer exploring features and was an early user of Orkut, Facebook and LinkedIn. In 2009, I began my journey in blogging and have completed a decade of this exciting roller coaster ride.
In 2010, I was part of a team which developed digital marketing curriculum for an MBA institute. I began to realize that social media and digital marketing are going to play a critical role in taking my creative writings to the masses.
IT = Inspiration Technology
As a digital storytelling / branding coach and trainer, I got many clients from the IT industry, without any specific focus. I realized that IT industry is open to new ideas, has a global mindset and is also a good paymaster. In fact the dynamism of IT is inspiring dynamism in other industries.
I began to address IT as an "Inspiration Technology". Over the next few years, I trained technical writers in storytelling skills, coached IT CXOs in brand storytelling and addressed CIOs in conferences. An accidental relationship turned into love.
The Birth of Bloggers Alliance
Provoked by the statement of Apple co-founder, Steve Wozniak that "Indians lack creativity" (during India visit in 2018), I looked for likeminded people and launched Bloggers Alliance with the motive of helping the creatives and bloggers. We decided to showcase Indian creativity to the world. Devendra Jaiswal joined me as the Co-Founder and brought his expertise in book publishing and sales. In fact, he was already doing the ground work to launch a creative ecosystem.
In India, we emphasise on nurturing technologically smart people, and less stress is laid upon developing artistic skills and creativity in individuals. Whereas I believe both technology and creativity needs to go hand in hand because digitalisation is providing a platform to everyone, be it artists, bloggers or knowledge professionals for that matter.
Bloggers Alliance intends to hand hold bloggers on the road to success and montetisation. We have started training the bloggers in skills like storytelling, influencer marketing and online branding.
Spreading the Power of Creativity Tech
Now I want to educate and train Indians in general and members of Bloggers Alliance in particular on how they can use technology or creativity tech to create better and faster. AI, Machine Learning, Blockchain and Human Machine Collaboration are going to take creative professionals to a new high in the coming years. As machines take over the routine tasks, all employees will have to focus on creativity and innovation.
I always tell bloggers as well as technology professionals that with great power comes great responsibility. While bloggers have the power of online journalists, technology professionals are impacting every domain, be it the way we work at office or the way we spend leisure time at our homes.
Are you ready for Creativity Tech?
Are you ready for the ride?
Are you ready to tell a new story?