B2B eCommerce – No Leisure Shopping
The other side of the eCommerce coin
Indian eCommerce story appears to be no less than a dream run, well positioned to contribute ~4% towards country's GDP by 2022. Over the years, the eCommerce market has been overshadowed by B2C eCommerce in terms of popularity among masses. However, very little has been spoken about B2B eCommerce, which is far bigger than the B2C eCommerce and is a fast emerging space.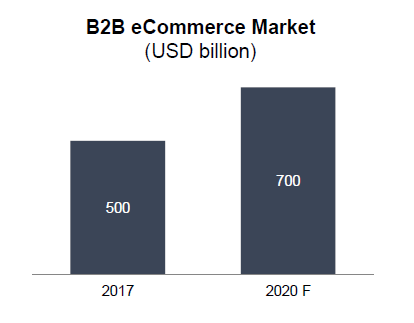 Source: Strategic Review: IT-BPM Sector in India 2019: Decoding Digital
Unlike B2C eCommerce, the market is led by categories such as consumer durables, mobile accessories, apparels, home furnishing, healthcare, automotive and construction and industrial supplies. The market is also characterised by difference between the purchases which in case of B2B eCommerce includes rational buying decision involving multiple decision makers, high transaction value with credit payment, auction/derivative price and multiple deliveries over a period of time.
Diversity of players speaks for market attractiveness
The B2B eCommerce domain acts like a magnet due to is sheer size, and tremendous opportunity as it has lacked organized players till very recently. Both global as well as domestic players such as Walmart, Moglix are strengthening their operational capabilities in the country. In addition, the market has also witnessed influx of established B2C players such as Amazon and Zomato, and first time offline retailers such as Reliance and Raymond.
Increasing investments and India's first B2B eCommerce Unicorn
The B2B eCommerce has definitely grabbed attention of PE/VC investors. Unlike B2C eCommerce that experienced flat level of investments in 2018, B2B investments grew over 140% to reach close to USD400 million.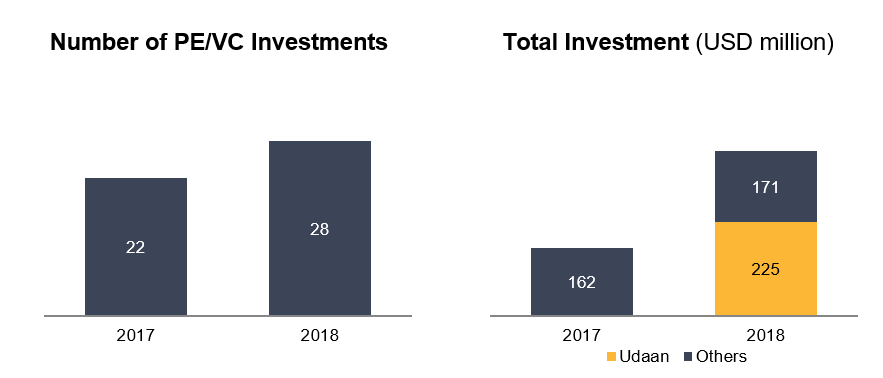 Source: Strategic Review: IT-BPM Sector in India 2019: Decoding Digital
The elusive unicorn club which is dominated primarily by B2C ecommerce players witnessed the entry of India's first B2B eCommerce player Udaan after it raised USD225 million from DST Global and Lightspeed Venture Partners. The company started of as a logistic platform for buyers and sellers in staples, electronics and apparels, has now 180,000 buyers and sellers on its platform.
Technology to shape-up the future of B2B eCommerce
Going forward, technologies such as AI and Big Data will help manufacturers to analyse data and make informed business decisions. IoT technologies such as RFID chips and barcodes in products will help provide real time actionable data to manufacturers, logistics partners and end customers. Blockchain implementation, although in experimentation stage, across decentralized supply chain management such as smart contracts will help manufacturers to track higher value goods with its unique attributes.
At present, the B2B eCommerce is being pulled down due to relatively muted investment in technology as compared to its retail counterpart. However, implementation of digital technologies across the value chain will drive stickiness and growth. Technology will help manufacturers to introduce new products to the market quickly. Use of mobile apps will enable traders, wholesalers, dealer, retailers, etc., to be on the same platforms and manage supply chain digitally.
Looking into the future
It is understandable that its not going to be an easy run for B2B eCommerce to gain popularity among masses as compared to its B2C counterpart. However, it would be interesting to see how influx of start-ups, existing online B2C eCommerce players and offline retailers would shape up the industry? Would this segment encourage investors to pump in more money to help companies invest in technology and drive growth? How long will it take to get next unicorn from this space?
---