Join the Japanese Venture Capital Network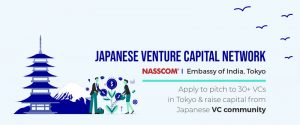 With dramatic increase in number of unicorns, resurgence in investments, and rapid growth in advanced technology in startup ecosystem in 2018, India continues to be the 3rd largest start-up ecosystem in the world with over 7500 companies. Last year, the total number of Indian unicorns more than doubled, with 8 start-ups being added to the list, highest number in any year till date. Indian startup ecosystem continued to attract investor interest with almost $4.2bn of funding in 2018 (Jan to Sep), growth of 108% vs 2017.
NASSCOM has played key part in curating this ecosystem in past. On one side there are large number of these startups that are entering growth phase and want to raise capital to fund this phase. On the other hand, Companies and Institutions from Japan have been long standing partner in India's growth story that now want to associate with this young and most promising budding Startup ecosystem by actively taking part in it. To bridge this gap, NASSCOM in partnership with Embassy of India, Tokyo is creating Japanese Venture Capital Network who have interest in building Indian portfolio of innovative businesses.
Why Apply
We have successfully rounded of more than 30 such institutions in Japan (plan to take it to >50 in due course) have shown interest in investing in Indian Tech Startups, especially companies that focus on solving issues faced in domestic market. A couple of these VCs have already visited NASSCOM office(s) and met with select startups in the last few weeks. We intend to arrange for live pitching session in Tokyo for selected startups with this network of VCs in couple of months.
Who Should Apply
Startups looking to raise capital by Japanese VC community
We foresee these investments to be in Pre-series / Series A / B / C level where the founders are looking to raise sum > $1Mn to $ 10Mn
If you think your startup is solving a problem which is widespread and has the potential to scale, this could be your opportunity to garner interest from Japanese business community.
Application Process
Interested startups can apply till 5th June 2019. Click here to apply.
After internal screening process, applications will be put to vote with the VC Network in Japan.
Shortlisted startups will be invited to join the NASSCOM Startups delegation to Japan (dates to be decided soon)
Participate in the Tokyo pitching session with the interested investor community.
Please note – Startups that are selected to be part of this delegation to Japan will need to pay delegation fee and make their own logistic arrangements.
Please feel free to connect with us at japan-vc@nasscom.in