Surprise surprise. India has a Gaming Unicorn!
Surprise surprise. India has a Gaming Unicorn!
It's not foodtech (Swiggy, Zomato), or edutech (Byju's), nor a B2B marketplace (Udaan) but it's good old gaming! Who ever thought that a gaming start-up out of India will become an unicorn?. The rise of Dream11 has been phenomenal, so much so that companies such as Paytm and PhonePe have also decided to enter in this field.
So, what make gaming interesting?
Sports- a huge interest area for Indians: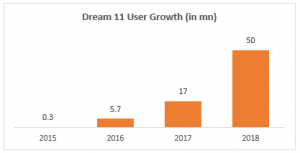 The love for Indian sports like cricket, football, hockey etc. were anyways visible but the major transformation happened with the advent of professional premier leagues. Right from the Indian premier league to Pro-Badminton league, every sport is having a huge fan following which is increasing on a daily basis. As per BARC India's 'What India Watched In 2018' report, the soccer world cup garnered 111 million unique viewers and 231 million impressions. Star Sports network featuring IPL with 17 channels managed to get 448 million unique viewers during IPL in 2018, the total impressions add up to a whopping 1.4 billion. IPL 2018 viewership grew by 41% from 2016.
Business Benefits: 
Attract users because of love towards sports
Lead to increase in time spent on app
Increase in purchase transactions
The Dream11 gaming platform is mimics most global gaming leagues such as Fanduel, Draftkings, Fantasy Premier League etc. . It allows the users to create own teams, score points and compete. This has both a free and paid model. In the paid model, users are required to join contests, each contest having different prize pool and related entry fees.
Today, KPMG indicates that Dream11 has a 90% share in fantasy gaming category. Some of the other competitors are Mobile Premier League (MPL), Fanfight, Cricnwin, Daily Fantasy League, and Oye Captain.
The credit for Dream11's exceptional growth can be given to:
brand ambassador M.S Dhoni who has high brand value
love for cricket specially the Indian premier league
technologically sound platform equipped to handle large users at the same time
continued investor interest
aggressive growth seen in tier-2 cities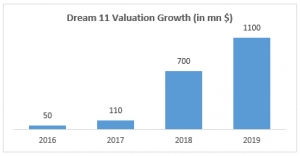 Dream11 was first backed in 2014 by Kalaari and Think investments when it was valued at $15 million, then in 2016 it's valuation increased to $60 million, and by 2017, it had crossed $100 million mark. Dream11 raised $100 million from Tencent at a $700 million valuation in 2018.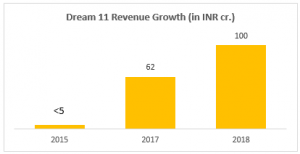 Revenue growth has also increased exponentially in the last few years. Revenues, which stood at less than INR 5 crore in 2015, zoomed to INR 100 crore in 2018. Dream11 did not show revenues during initial years as their offering went for free. Slowly, ad revenue started coming in, and revenue growth increased once they replaced the free gaming league services with paid services
So, can we safely say a sector such as sports gaming, which in turn bases itself on sports that have massive following in India, is expected to boom in the coming years? Can gaming platforms like Dream11 leverage the sporting passion of Indians to create a sustainable business?
I look to hear your thoughts on this.