Tech Invest Forum: India's Innovation Quotient Gets A Fillip Thanks To Creative Business Solutions With High-Investment Potential
It is an exciting time to be a product startup in India. The country is among the hottest innovation hubs in the world – thanks to a growing talent pool, seasoned investors and a strong impetus from the government for socially impactful innovation. Investors and product startups believe that the time is ripe for robust support systems in the form of investments for startups to become market-ready and further enable digitisation. Given the highly competitive nature of the Indian startup ecosystem, it is imperative that startups find the right investors, and can seamlessly accelerate their growth potential.
As of last year alone, investments in deep tech touched US4248mn, twice the amount invested in 2017 – and many believe this is due to the increase in demand for technologies like AI & ML in business processes, a growing talent pool that is working on high-end solutions and the ever-growing demand for technology to solve crises that arise in social sectors like healthcare, sanitation, water and transport.
NASSCOM Center of Excellence IoT & AI, being a leader in accelerating India's innovation ecosystem, conducted the first ever Tech Invest Forum 25th July, 2019. The Tech Invest Forum identified Promising Startups based on startup & enterprise research firm UnearthInsight's Proprietary Start-up Scoring Framework. Along with NASSCOM CoE IoT, data was collected on 20 parameters for each early stage start-up across FOUR large categories
Product/Technology Strength
Founder Strength
Market Traction
Potential & Investment Score
Each parameter has FOUR sub-parameters, which have been identified based on feedback from 50+ incubators, investment analysts, senior investor community connect and NASSCOM CoE network.
Examples of sub-parameters in Market Traction includes Paying Customer, Total Addressable Market (TAM), Serviceable Obtainable Market (SOM) & Market Maturity for Adoption. Similarly, investment score looks at Quality of Angel or Seed investment received & Size of Investment.
NASSCOM CoE is publishing a list of promising startups periodically to drive the following:
Adoption Ready Startups – Curated promising startups whose solutions have been deployed or adopted
Investment Ready Startups – Curated Fundability Assessment for every start-up/innovator that participated
Ecosystem to Drive Adoption – Platform for early stage & solution-ready startups to test with both enterprises and investor community
The event witnessed participation from Bangalore's leading technology investors and accelerators:
Arali Ventures
Speciale Invest
Chiratae Ventures
1Crowd
InQ Innovation
Inventus Capital India
Future Group
Applied Materials
Indian Angel Network
Ideaspring Capital
3one4 Capital
Ideaspring Capital
50+ startups registered to participate. 17 were shortlisted to pitch
Here is the list of the 10 Most Promising Technology Startups To Watch Out For in 2019
UnearthInsight Reports: The Investor Landscape in India
In the past decade, India's investor landscape has matured rapidly. Technology investment in particular has witnessed a surge, bolstering the confidence of startups considerably.
Unearthinsights provided this exclusive data on India's deeptech funding ecosystem
$69.8bn invested globally in 8,800 Venture Deals
More than $2.8bn invested in 200 Indian Startups
$1.1bn (40%) alone invested in Growth Stage Startups (Series B to Series D/E with avg ticket size of $50mn)
68% Investment in SaaS Companies
32% Investment in AI, IoT, Drones & Blockchain
22% growth in YoY investment in Q1 FY20 in India versus Q1 FY19
7 Unicorns In 2019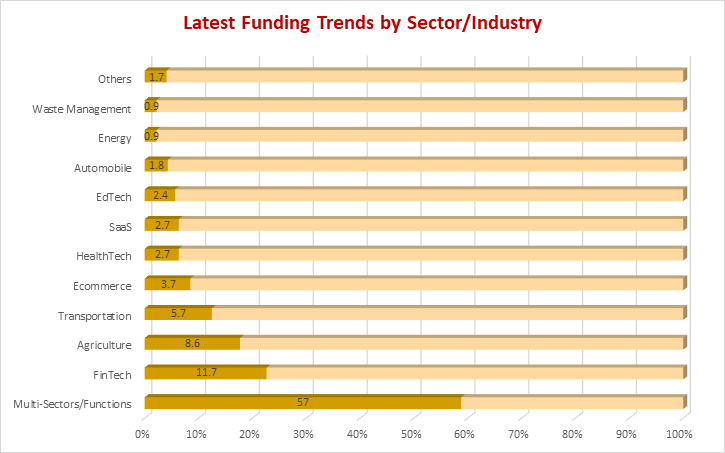 India's deeptech ecosystem is full of promise and potential. More industries and enterprises are actively seeking high-impact, precise, analytics-driven solutions to deliver impact and have a competitive edge over their counterparts.
As India's talent pool in technical skills widens, enterprise interest in applying advanced technologies piques, investors can facilitate funds into innovative solutions and startups can truly push the boundaries of their creativity with technology.