Ask me Anything with Satinder Juneja, Head of Marketing, L&T Infotech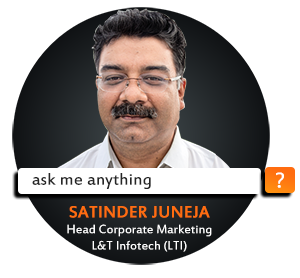 Satinder Juneja is a senior marketing professional with over 23 years of experience in B2B industries across IT & Telecom domains. He is Head-Marketing at L&T Infotech (LTI), responsible for Corporate Marketing function. Prior to that, he has worked for NIIT Technologies, Microsoft, Aricent, HCL Infosystems, AirTel, and The Hindustan Times in various roles in marketing. He also consulted with various IT/ITES companies and PR firms. He has touched all the facets of Marketing & Sales enablement thru his career.
A TEDx speaker, he also featured on Gadget Guru on NDTV Profit. A speaker at Marketing conferences, he is part of the expert panels as well jury member at various marketing competitions. Satinder is also part of NASSCOM's special interest group on Sales & Marketing. He has a passion to teach and is visiting faculty at several business management institutes for Digital, B2B & International Marketing.
He will be answering your questions for next three days. You can ask questions on:
Content Marketing
B2B Marketing and role of content
Readiness,  strategies and alignment for Content Marketing
You can ask questions till 25th January and they will answered on 26th – 27th January. Please post your questions in the comment section below.
Note: The questions have been answered by Ankush Garg, Marketing Director, Pentaur.