#Areyoucybersecure: What Bothers Most to C-Level Talking About Mobile Security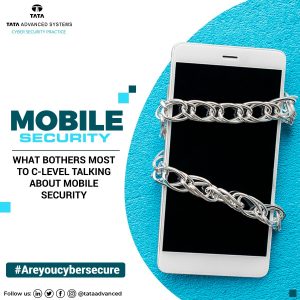 From making payments, sending emails, social networking to accessing corporate networks for business, mobile devices are involved in almost every action we perform. More than 70% of web traffic comes from mobile devices. According to the Pew Centre of Research, 95% of Americans own a cell phone, and 77% of them have smartphones. This number is enough to explain how essential tool smartphones have become over a period of time.
As the number of mobile device users is increasing rapidly, the volume of data stored on these devices also expanding. That is why hackers are leveraging the hype and fear connected to the COVID-19 pandemic to trick people and steal critical user data.
Policies, like Bring Your Own Device (BYOD) and Work from Home (WFH), are one of the factors that have contributed majorly in making smartphones popular at workplaces. If we talk about work from home, a majority of employees prefer to access their corporate emails and information through mobile phones. No doubt, the benefits of always-connected employees are appreciable. But it also generates a considerable amount of risk for C-Level (or C-Suite) who are responsible for ensuring constant data access from any remote location through any device with minimal security risks to the company. According to iPass's Mobile Security Report, 92% of security managers said that they are concerned about the security challenges posed by the increasingly mobile workforce.
C-Level executives believe that the importance of enterprise mobility management for any business is irrefutable. A mobile device is a broad threat vector with multiple permutations that are beyond the corporate perimeter. Besides offering new ways of doing business, it has opened up new data breach vulnerabilities.
Most organizations have security infrastructure for on-prem servers, networks, and endpoints, but too many are ignoring mobile security. This is why most CIOs and IT executives identify mobile devices as the weakest link in their company's defence. Furthermore, a majority of mobile devices use applications 87% of the time, while interacting with Wi-Fi networks and cloud services that are beyond administrative touch.
So, what are the areas creating concerns for C-Level thinking about enterprise mobile security? Let's have a look at some of the possible regions.
Lack of Awareness for Mobile Incident Response Plan
Missing Corporate Mobile Device Security Policies
Increasing Malware
Operating System (OS) Security Policy
Physical Security (Lost Devices)
System Updates
Bluetooth Attacks
Mobile Browsing
Data Security
Multiple User Logging