Why VAPT service is important for companies?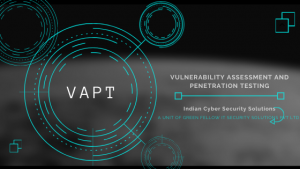 VAPT stands for Vulnerability Assessment and Penetration Testing. This is an assessment procedure conducted by a Cybersecurity expert. In this process, Cybersecurity experts identify and measure the vulnerability in a given environment.
Companies who stored sensitive user data or have network infrastructure don't check the vulnerability in their system. That's why they are highly vulnerable to cyber-attacks. Companies should identify and measure the vulnerability in their Web App, Network devices, Android Apps and even IoT devices. But many companies don't have a dedicated Cybersecurity team or experienced Cybersecurity experts to measure and maintain the security.
Indian Cyber Security Solutions provide the best Vulnerability Assessment and Penetration Testing or VAPT service. Our Cybersecurity professionals are highly skilled and have years of experience. In this process, they identify and measure the vulnerability in your infrastructure.
We Conduct VAPT/Security testing as per the scope of work. Based on our findings, a detailed report will be submitted to you for implementing the measures that we suggested. Once the fixes are implemented by your IT personnel, we will initiate another Audit on the above scope and check if all the vulnerabilities that we reported have been properly implemented and are completely secured. If everything is in place, we will certify the audit work as completed. There are two types of service. One is Balck box testing and another is White Box testing.
The main feature of our service is that Vulnerability Assessment and Penetration Testing is not a separate service. We sign a Non-Disclosure Agreement with every client before the audit/VAPT. ICSS provides manual-based testing along with tool-based testing which reduces the false positive report to maximize accurate identification of critical level vulnerabilities.
Enterprises heavily rely on cybersecurity products for their critical infrastructure protection. Cyber Security Products like – antiviruses, IDS, IPS & Firewalls are highly capable to prevent intrusions only when they are implemented after manual security testing done by penetration testers.
Indian Cyber Security Solutions aims at providing cybersecurity VAPT service to clients. Our team of technical experts assesses the critical infrastructure of the enterprise and provides valuable cybersecurity consultancy to the organizations. ICSS helps the enterprise to implement cybersecurity measures as per the technical VAPT report provided by the penetration testers.