Building a future ready workforce? Focus on 'composite' capabilities
With the advent of emerging technologies, the nature of jobs is evolving, leading to evolving career paths. For the past few years, organisations and employees around the globe have been alarmed by studies predicting that emerging technologies, such as AI, automation, and robotics, will replace humans. About 64 percent respondents of Deloitte's Global Human Capital Trends Survey 2019 cited AI and robotics as important areas of consideration in any discussion on human capital. Only about 26 percent of the respondents across the globe stated that their organisations were ready to deal with the mega-impact of these emerging technologies.
With this changing nature of jobs, the skills needed to perform these jobs are transforming. Organisations' focus is on building 'Composite' capabilities that requires employees to possess a combination of three different capabilities, including technical skills, professional skills, and domain knowledge.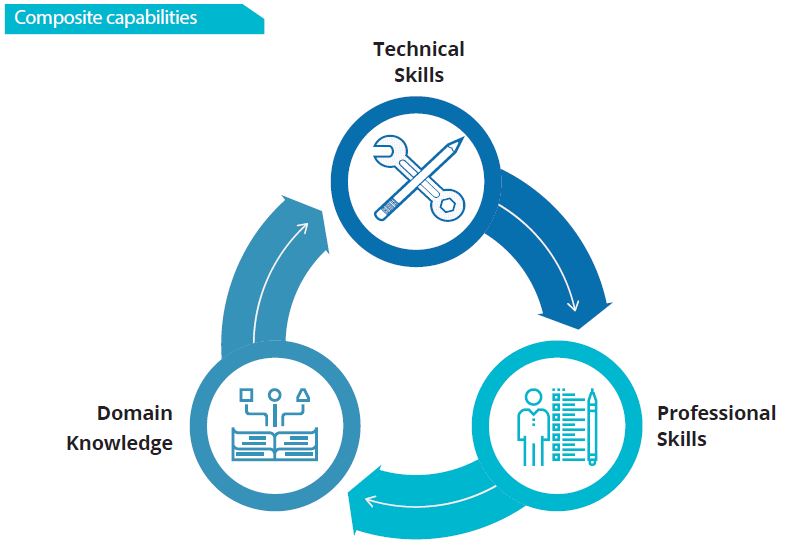 As per the NASSCOM Future Skills survey 2019, Artificial Intelligence, Big Data Analytics, Cloud Computing, and Intelligent Automation (RPA) are among the top technologies when it comes to skilling their workforce. This trend is expected to remain unchanged over the next two-three years. Although these technologies will continue to dominate the landscape in the near future, the skills required to work in these technologies may evolve over time. The tools and platforms that are popular now may be replaced with new ones that do not even exist at present.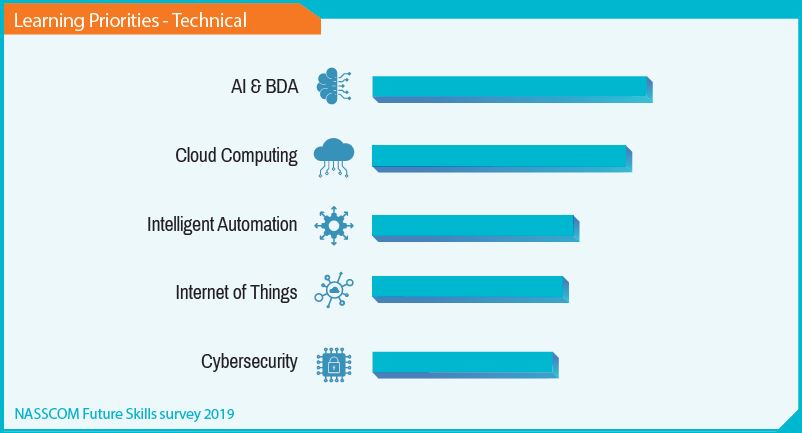 When it comes to professional skills, the NASSCOM Future Skills survey 2019 highlighted that communication skills, problem solving and digital leadership are among the top professional skills for organisations to skill their employees. Additionally, industry leaders also emphasized on inculcating continuous learning as a part of an organisation's overall culture. With the decreasing shelf life of learned skills, research also corroborates that there is a need for 'lifelong learning', which primarily comprises continual learning, unlearning, and relearning to stay relevant in today's environment. 'Learnability' is increasingly emerging as a key skill that organisations are looking for while hiring employees.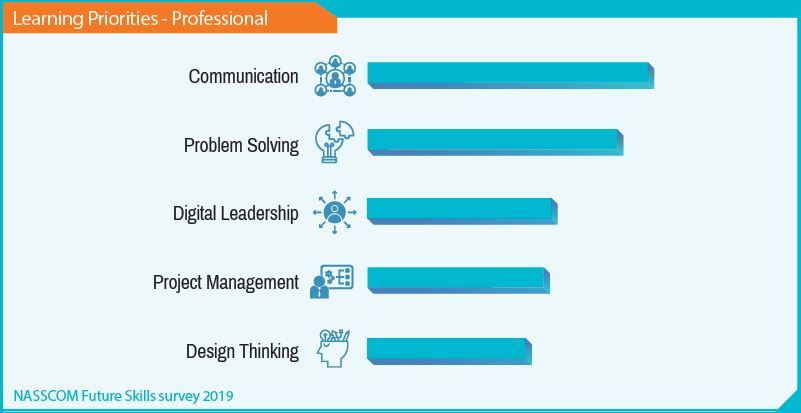 Although focusing on technical skills in the age of digital transformation is important, acknowledging institutional knowledge and developing a business model that integrates new digital talent with domain knowledge is also essential. In addition to institutional knowledge, gaining knowledge of verticals (including BFSI, retail, healthcare and life sciences, agriculture, education, automotive, FMCG, energy, manufacturing media and telecom, and government and public services) that organisations cater to is also important for the jobs of today.
It has been observed that collaboration among teams requires a range of skills beyond technical capability. Successful teams have diverse skill sets and each member has composite capabilities.
Read the full report: Future Skilling for the Digital Economy