Leveraging the Potential of the IIITs – Six Things You Should Know
Industry-Academia collaboration is always a hot topic of discussion in any forum where the state of Indian education is being discussed.  It is also true that most discussions start with "Leaving aside the IITs….".  Most conversations, then move to the limited flexibility that educational institutions have in determining their academic model.  Attending a meeting between 20 IIITs (yes 20!) and some representatives of industry and government, I realized that IIITs seem to have very limited visibility but huge potential.  Here's what I learnt that should get you inspired to find a way to connect with them.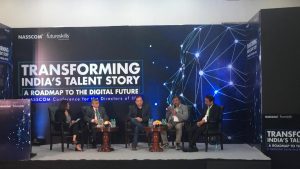 Did you know that IIITs are autonomous educational institutes, with an innovative governance structure that allows them to provide an exceptional education model? They have been set-up with the key objective of addressing the challenges faced by the Indian IT industry.
Till not too long ago, the first three IIITs were the ones that were known – IIIT – B, IIIT – H and IIIT – D. With the low number of students, they were a niche institution, focusing on post graduate students.  These grew to eight with the establishment of Gwalior, Ahmedabad, Jabalpur, Kancheepuram and Kurnool, fully funded by the government and in 2010, 20 more were approved in a public-private partnership funded by the central government, state government and industry in the ratio 50:30:15.
To keep the IIITs lean and flexible and avoid red tape and government stipulations and norms, they were modeled in such a way that capex and land would be provided by the Government, while opex would be taken care of by the IIITs themselves.
IIITs fund themselves not just by student fees but by collaborating with industry on research initiatives. Industry needs research to solve for business problems. Young faculty and students could undertake research, publish papers and share ideas and workable prototypes to solve for industry problems. The point is if we can make university research relevant to businesses, it would be a win-win for all stakeholders. A wide gamut of experimentation is possible in such scenarios and university research could potentially offer product features not yet envisioned.
The original IIITs focused on only on post graduate students but the newer ones have launched undergraduate courses as well. The number of students the IIITs churn out has grown dramatically.
IIITs have minimum government involvement. They have a governing council that gives them a lot of flexibility in their pedagogical approach.
Debjani Ghosh, President NASSCOM, highlighted that the best thing about IIITs is the lack of legacy which gives them the flexibility to work with industry as they deem fit.
It was therefore an Aha moment for 20 IIIT Directors when NASSCOM brought them together and connected them with senior Industry members at an event recently. The event served to provide a roadmap and long-term vision to IIITs to become Centres of Excellence for IT education and research with inputs from Industry leaders and they could explore ways to effectively link with industry for mutual benefits.
I would like to quote Mr Ajay Sawhney, Secretary MEITY, to emphasize the importance of IIITs. He compared the IIITs to a crown prince, who is destined to become king one day. According to him, "It is not what it is today, but what it will be tomorrow." IIITs can be a key link in the chain to prepare IT industry ready students, with practical experience and an entrepreneurial approach towards work.
---