Are Internal Skilling Platforms in line to become the new source of revenue for IT Services Companies?
In the current digital era, Skilling has become a key focus area for companies across the globe. According to the recent report by NASSCOM, "Future Skilling for the Digital Economy", the installed talent base of digitally skilled professionals in India across emerging technologies stood at 6,80,000 in FY2019 and is expected to reach 8,84,000 in FY2020; which is only 20% of the total workforce employed in the IT-ITES industry. This highlights the lack of digitally skilled talent in the country.
One of the key ways companies are trying to match up this lack of digitally skilled workforce is through the internal e-learning platforms developed by the IT companies. For example: TCS and Infosys are using their internal platforms TCS' Ion and Infosys' Lex, respectively, to reskill their 700,000 plus employees.
Apart from these internal company platforms there are also a large number of third party platforms such as Udacity, Coursera, FutureSkills, edx; which companies are leveraging for e-learning opportunities across the new age skill sets.
Considering that companies like TCS and Infosys have invested well in their e-learning platforms they are now looking to cash their investments by making these internal platforms – external consumer platforms.
Salil Parekh, CEO of Infosys commented in a recent interview with ET, "If you take the Wingspan-Lex story, there is a very small amount of work to be done to make it a consumer platform….We are not blind to it.. Our main focus is still the large enterprises, but we are looking at some of these things which might morph into it over time". In September 2018, Infosys launched Wingspan for enterprises.
The next step now is to make create a consumer facing business, for which Infosys already has a team working on a consumer strategy for Wingspan-Lex and a commercial model.
According to Ganapathy Subramaniam, chief operating officer, Tata Consultancy Services (in an ET interview) "The opportunity is there to open it up to others, beyond the talent pool and the supply chain that we have".
In a March 2020 interview Venguswamy Ramaswamy, global head of TCS iON, highlighted that  Tata Consultancy Services' business unit TCS iON that caters to the Education and SMB sectors, will increase focus its focus on the domestic market by signing up for large-scale content aggregation and corporate engagements and venture into newer markets such as Latin America and the UK.
How the companies pan out these consumer led strategies is something we need to wait and watch; what is sure is that it's a good market opportunity.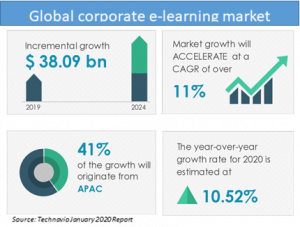 The overall global e-learning space which also has the academia/students under its radar is even bigger…
IT companies have started to think of ways to leverage this market and if they can continue to think of ways to get even a small share of this academia pie under their e-learning platforms the opportunity is big which is getting bigger each day!!
Read more insights on how key trends shaped up for the Indian IT Services industry in NASSCOM's Strategic Review 2020 – Technology Sector in India 2020 – TECHADE – The New Decade Strategic Review