Innovation led Disruption: The Reality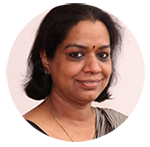 by Sangeeta Gupta, Snr. VP, NASSCOM for NTLF 2019
If we were to describe current times in the shortest possible way, we would do so by saying "Future is Closer."
All thanks to the tech advancements today due to which future events seem closer and quite accessible. For instance, watching Sophia – the first humanoid citizen – spoke at the Nasscom India Leadership forum 2018 and other such events. it is not just enthralling but it also brings back vivid memories of the casual discussions that most of us had about Robots going mainstream, not very long ago.
The business community finally seems to have embraced the technological revolution and has begun adapting to a new era of emerging technologies. These range from artificial intelligence (AI)/Machine Learning (ML) to Blockchain and Internet of Things (IoT) amongst others. The adoption rate, however, varies from industry to industry and by the size of the underlying company. Evidently, the adoption rate of emerging technologies is higher in larger companies as compared to their smaller counterparts operating within the same industry. This is because larger companies have more resources which allows them to simultaneously update their infrastructure, strengthen security systems and invest in newer technologies. Smaller businesses, on the other hand, operate with smaller IT budgets which get extinguished in addressing immediate concerns, such as upgrading aging infrastructure and refreshing out-of-support software and services.
The outliers to the above statistics are the new-age businesses or start-ups, as they are commonly known as these are inherently innovative and agile and disruptive. Adoption of new technologies and tools to deliver better customer experience has been a second nature to start-ups. A huge number of Indian start-ups have achieved success by developing business models centred around enhancing customer experience. Redbus is one such example; it has grown to become India's largest online bus ticketing platform by delivering a splendid customer experience while booking a bus ticket.
"Emerging Technology is not just re-shaping How we live but also how we work."
Emerging technologies are driving disruption in the global business ecosystem at a breakneck speed, and many Indian C-level business executives are taking measures to equip themselves to lead in the current disruptive age. According to the 2019 Chief Information Officer (CIO) agenda survey by Gartner, 46% of Indian CIOs have informed that their organizations have either transformed or are in the process of transforming their business models (1).
India's telecom industry is a prime example that has undergone a complete overhaul in recent times. The business models have evolved, the traditional voice and text businesses is declining as the data business grows exponentially. The industry players are investing considerably in the emerging tech to give customers newer product and service lines, better and personalized customer experiences than ever before. With the increased smartphone usage, most of the customers' interactions happen using digital interfaces. Companies are implementing AI to drive efficiencies and create value throughout the customer journey.
Findings in another academic study by the University of London indicated that India has surpassed USA  and Japan in automation and AI adoption (2). The National Digital agenda rolled out by the Government of India has also helped in bringing the digital debate to the forefront, business leaders are exploring emerging technologies to work more efficiently and deliver a higher level of service to their clients.
We believe this moment marks an inflection point for the business and society at large. In such era of disruption and hyper-competitive business environment, companies can no longer afford to rely on just traditional models. Organizations are now seen leveraging on emerging technologies to expand their boundaries, provide better customer experience, improve operational efficiencies, and most importantly, to improve profitability to stay ahead in the curve.
References:
https://www.gartner.com/en/newsroom/press-releases/2018-11-15-gartner-survey-of-indian-cios-reveals-that-organizations-are-entering-the-third-era-of-it