Guidelines to social media Do's and Don'ts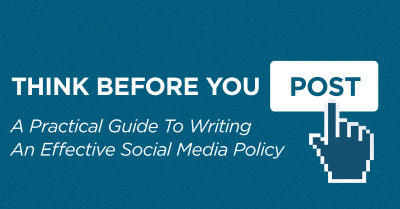 Why social media policy?
Are you aware of the fact that 49 per cent of the world's total population uses social media? The count has gone up to 3.81 billion users as of 23 Jan 2020. Making the best out of this opportunity, companies have taken to social media to attract the right audiences. Where facebook being the most widely used, followed by youtube, companies are using them for various organization functions like recruitment, employer branding, sales, and promotion, etc.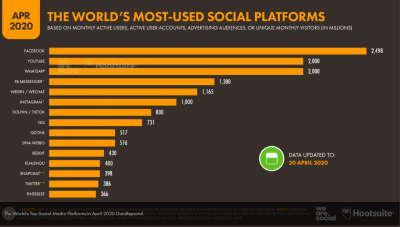 source:- https://www.smartinsights.com/social-media-marketing/social-media-strategy/new-global-social-media-research/
But what if the use of social media didn't go the way you wanted it to? What if this backfires your company? To answer such questions HR formulates social media guidelines to lay out the rules within which the employees of the organization need to operate. Social media guidelines should concern you as an organization because your multigenerational employee team is there on social media and whatever they do on social media will, directly and indirectly, reflect your organizational values, culture, and code of conduct.
Thus, here are some Do's and Don'ts that company can provide to employees:-
DO's
Communication
The intention is to protect employees and the organization and not scaring them.
Thus, company's HR should communicate to the employee why the social media policy is being formulated. Companies should communicate that they are free to associate themselves with the organization on social media platforms.
Define the social media platforms clearly
Where most of the guidelines cover the big social platforms like Twitter, Facebook, and LinkedIn. But companies should convey the other social media forums like blogs, youtube, private chats as  part of this umbrella of guidelines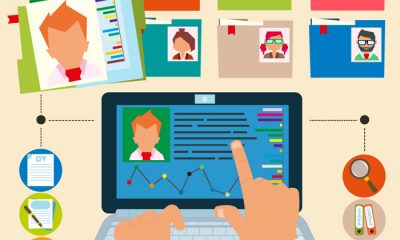 Handle your social media handle
Many employees have two accounts, one personal and another professional but that is not much needed as nothing is personal on social media. Companies should suggest that one profile will suffice, and they don't need to have two separate profiles.
Keep a balance of sharing posts and content.
Companies should instruct employees to be very conscious of what they are posting. They should convey that anything controversial posted on social media will not be tolerated and employees should refrain from such posts. When posting their viewpoints, employees should use the disclaimer "The views expressed on this site are my own and not those of (name of the organization)." This is especially important for junior and manager-level employees.
Don'ts:-
Avoid plain-looking content
Companies should instruct employees to keep their content simple yet attractive.
Some tips companies can provide employees with:-
Avoid overuse of hashtags
Use more infographics
No to, all caps
Posting the same thing on every platform
Don't post while you are supposed to work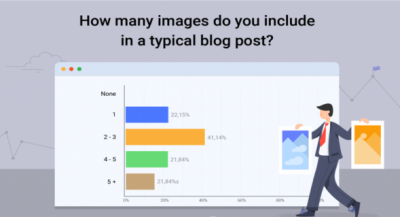 source:- https://blog.bannersnack.com/visual-anatomy-of-a-blog-post/
Avoid disparity between office-self and real-self
Companies should suggest employees, to be as real as much they can on social media as well as in-office.
Research by Pew Research centre revealed that co-workers discovered information on social media that lowered their opinion of a colleague.
The company should adopt the culture of "real self ":- "be yourself – an original is worth more than a copy".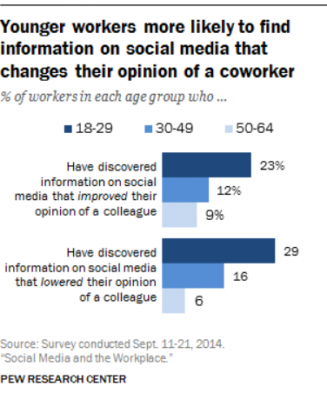 Source:- https://www.pewresearch.org/internet/2016/06/22/social-media-and-the-workplace/
      3. Avoid posting the company's confidential information:-
Companies should strictly cede this in employees that revealing the company's information is highly prohibited. As there is information that is confidential and proprietary, it becomes imperative that social media guidelines should demarcate the information based on the level of privacy. Both employers and employees need to be on the same page to understand what all things can be posted and which cannot be.
Example of a list you can share:-
Companies snapshots
Company's blog
Videos
4. Avoid advising clients on social media
Companies should instruct the employees to be careful with client relationships on social media. "Even if the customer has contacted you on social media for the solution. You need not answer on the same platform rather with appropriate professional steps should get back to the client."  Providing services to clientele is not just a question-answer round. This relationship is built through much research and then coming out with a solution.
Companies following some social media guidelines:-
FedEx:-
Only designated employees are authorized to associate their profile with FedEx on social media.
Approval is needed from the social media handling team.
"Question: I want to use my social media account to communicate with FedEx customers in my territory. Do I need approval from FedEx?"
"Answer: Yes. If you plan to use a social media account to conduct FedEx business contact socialmedia@fedex.com for information and approval."
"Question: I want to establish a personal YouTube site dedicated to restoring vintage motorcycles. Do I need approval from FedEx?"
"Answer: No. If you establish the site with your personal contact information, and the site is unrelated to your work at FedEx, you do not need approval from FedEx."
"Question: I sometimes go out after work in my FedEx uniform. Am I allowed to post pictures of myself socializing in my uniform?"
"Answer: As long as the pictures do not violate the FedEx Code of Business Conduct and Ethics or other policies, and they are not offensive or distasteful, it is okay to post pictures of yourself in your FedEx uniform on social media."
Capegimi
Guidelines for Social media use:-
Employees are welcomed to use their role at Capgemini as a biography for their profile
Once associated with Capgemini, every post will reflect the Capgemini's values and code of conduct
Sharing content that constitutes an IPR infringement, defamation, disparagement or abuse is highly in intolerant
Prohibition on sharing client confidential information
Using disclaimer "The views expressed on this site are my own and not those of Capgemini." for individual content
Communication can unlock several doors as well as bad communication can lock the doors.
Thus, "Communication becomes the key to everything."
HR needs to communicate these guidelines "do's and don'ts" clearly with the employees and should not leave any gap for assumptions. It is not a one-time communication but as "forgetting" is human tendency employees need to be given workshops and training for using their social media handles properly and wisely periodically.
References:-
http://s1.q4cdn.com/714383399/files/doc_downloads/corp_gov/2018/socialmedia-guidelins-and-faq.pdf
https://datareportal.com/social-media-users
https://www.smartinsights.com/social-media-marketing/social-media-strategy/new-global-social-media-research/
https://www.postbeyond.com/wp-content/uploads/2018/02/employee-social-media-guidelines-ebook.pdf
https://www.forbes.com/sites/forbeshumanresourcescouncil/2020/04/03/the-dos-and-donts-of-social-media-etiquette-at-work/#415ed7344c40
About Authors
Dr Amit Nagpal is President, Bloggers Alliance and also teaches Digital & Social Media at NDIM and BIMTECH.
Kirti Kumar is a budding HR professional currently pursuing PGDM in HR and Marketing at New Delhi Institue of Management. She looks forward to opportunities that can hone her skills. She is agile in her attitude with versatility in her action.