Overview of Employer Branding
Why employer branding?
This is the era where not only employees have to be agile but organizations also have to stay agile to keep up the pace with the contemporary trends. This era has exhorted the organization to revamp its traditional way of operating to a new digitalized way of carrying out work. Where the employee selection process has become more stringent over the years, at the same time employees carefully select the company they want to work with. It falls in the bailiwick of the HR to carry out employer branding to bridge the relationship between the employees and the employers. To bring the best talent in their organization, companies have to be a step ahead in their employer branding. HR identifies that employer branding helps in attracting, engaging and retaining the right talent.
Due to individual differences, HR needs to conduct a thorough study on "what drives employees to excel in their work". Every year "Randstad employer brand research (REBR)", carries out research globally to find out the "top reasons to choose an employer".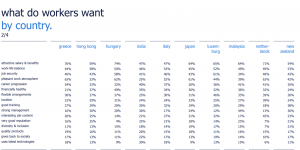 Source:- https://www.randstad.in/employer-brand-research/global-report-2019.pdf
Employer branding is a complex process that determines the type of employees that will be recruited for the company. Thus, there are few Mantra's to keep in mind to further lead with the process:-
Well-defined Employee value proposition (EVP)
It is a tool that is used as a magnet by employers to attract the employees based on the set of values and culture of the organization. The first step is to build strong EVP by identifying the triggers for your perfect candidates. The organization needs to make itself different from other companies. Studies indicate that high performing organizations with good EVP have 3 to 4 times more employees displaying higher levels of commitment than organizations that have poor performance.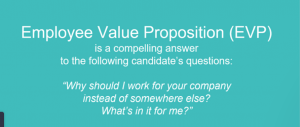 It's a circular activity
Employer branding doesn't get over just after the hiring process but it becomes more important when it comes to retaining employees. A good employer in this sense will have a well-defined learning curve with regular monitoring and review the brand equity of an organisation to stay aware in this competitive market.
Multigenerational organization
As the focus on millennials is increasing day by day, but still, the organization is a myriad of baby booms, Generation X, Generation Z, and millennials. In such a scenario employer branding for only the young talent is unjustifiable. Employer brand needs to prepare the strategies that cater to all the employees of the organization. Along with attracting new talent pools, employers need to focus on all the human capital irrespective of generation.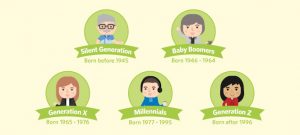 Source:- https://www.altres.com/business/2020/01/multigenerational-workforce/
Why should, an "employee choose your company"
An employer should be ready to answer the question " what value, the organisation will add to the employee's career". For the current employees as well employer needs to identify their motivation level, provide constructive feedback, have transparent communication.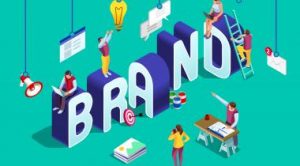 Source:- https://entrepreneurhandbook.co.uk/how-to-create-a-brand/
Metrics to measure employer brand.
Why do we need to measure it? Is it measurable? How will you measure it?
each function in the organization needs to be checked in terms of the ROI. Organization invests highly for such operations thus it becomes crucial to check the productivity of the methods being used. Metrics that can be used to track employer branding ROI are:-
Employee satisfaction scores
Attrition rate
Time-to fill ratio
Quality per fire
Cost per hire
Number of employee referrals
Employee engagement
Number of applications per position
Cost of turnover
Onboarding program.
Retention rate is the most important metric that gives insight into the employer branding ROI
The organization has moved from profit-centric to employee-centric culture. Employer branding is one such aspect that strengthens the image of the organisation as an employee-centric one. As the HR look for the USP of an employee while recruiting, the same way employee evaluates the organization based on their USP to reject and select an organization for which they will want to work.
Reference:-
https://www.peoplematters.in/news/campus-recruitment/indian-mba-students-undergrads-choose-google-as-their-ideal-employer-report-22051
https://www.randstad.in/expert-speak/the-secret-sauce-of-successful-employer-branding/
https://www.maximum.com/blog/employer-branding-trends-2020
https://www.gartner.com/smarterwithgartner/your-paid-leave-policies-will-impact-your-employer-brand/?utm_medium=social&utm_source=twitter&utm_campaign=SM_GB_YOY_GTR_SOC_SF1_SM-SWG-CV
https://www.randstad.in/employer-brand-research/global-report-2019.pdf
BRIEF PROFILE
Dr Amit Nagpal is President, Bloggers Alliance and also teaches Digital & Social Media at NDIM and BIMTECH.
Kirti Kumar is a budding HR professional currently pursuing PGDM in HR and Marketing at New Delhi Institue of Management. She looks forward to opportunities that can hone her skills. She is agile in her attitude with versatility in actions.