AI-enabled Vaccines for Diabetes, Heart disease and Cancer featured as top technology breakthrough by Carnegie Mellon University
It is an open secret that Doctors are being manipulated with incentive-based "sales quotas", as they prescribe invasive medications/treatments that cause more harm from side effects. It is imperative that we restore the human condition to levels of natural equilibrium embodied in ancient traditions, when wealth did not conflict with health.
Ayurveda is built upon a foundation of "Swasthasya swasthya rakshanam. Aturasya roga nivaranam" (To protect health. To prevent disease – Charaka Samhita 500 B.C). In sharp contrast, "Do no harm" (Hippocratic Oath) becomes irreconcilable with money at stake from over-diagnosing, over-treating, over-medicating to increase lifelong dependency. The Insulin crisis, the opioid crisis, the cholesterol sham, the chemotherapy scam, thyroid treatment, increasing C-sections, price gouging are the tip of the iceberg. This is already reducing US life expectancy and will decimate India's socio-economic aspirations through debilitating Diabetes, Cardiovascular Disease and Cancer.
Carnegie Mellon University featured Digital Vaccines as the top technology breakthrough
With a deep focus to shift the tide towards protecting health, FriendsLearn is pioneering a new category of AI-VR enabled Digital Vaccines, with world-renowned scientific collaborators from Carnegie Mellon University, Johns Hopkins University Bloomberg School of Public Health, Stanford School of Medicine, Stanford Law School, The University of Michigan – Ann Arbor, Pittsburgh Children's Hospital of UPMC, Oxford University Nuffield School of Medicine, National University of Singapore, Baylor College of Medicine,  & Kansas Medical Center.
The Global Child Health Protection Digital Vaccine Project is now entering India to shortlist eligible schools and State Education Departments, who share a strong commitment to the health of future generations, by applying to become a Distinguished School/Government Health Partner. This will grant selected forward-thinking Indian schools, the exclusive opportunity to collaborate with world-renowned research institutions, along with special access to the mobile App platform fooya! – the world-leading clinically proven health education curriculum that reduces the risk of lifestyle diseases.
ABOUT THE AUTHOR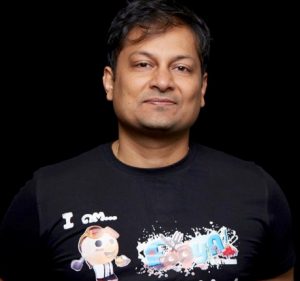 Bhargav Sri Prakash, Founder & CEO, FriendsLearn
The registrations for 28th NASSCOM Technology & Leadership Forum are open. Visit https://www.nasscom.in/ntlf/ to see how the event is shaping up. Register Today at https://www.nasscom.in/ntlf/register.html
We have special offers running for SMEs, Start-ups and Women in Tech, contact us at ntlf@nasscom.in to know more.