Digital Skilling – A Strategic Imperative
The concerns around increasing demand for skills, especially in emerging technology areas, are no longer limited only to HR, but have become an organisation-wide challenge. About 77 percent of the CEOs of the NASSCOM CEO Survey 2019 mentioned lack of digital capabilities and skills among top three risks that can be a hindrance to the technology industry's growth.

Digital skilling has thus become an integral part of the technology industry's overall business strategy and organisations are making efforts towards seamless execution of the same. As per the NASSCOM Future Skills survey 2019, about 94 percent respondents mentioned that digital skill development is part of their overall strategy. Of these, 59 percent had digital strategy at the core of their company-wide strategy, while 35 percent organisations have digital skilling as a part of key business functions.
Some of the key aspects that organisations have started focusing on comprise, reporting digital skill development in business review meetings, devising learning and development policies focused on digital skills, frequent digital skilling policy reviews and allocating L&D budget for digital skill development. About 89 percent organisations report digital skill development in business review meetings quarterly, biannually/annually, or based on business needs.
With the increasing importance of digital skill development for building workforce capabilities, L&D policies have also evolved. Almost 80 percent of the organisations mentioned having L&D policies for digital skills. Some organisations have devised specific policies for digital skilling, while others have extended their existing L&D policies to include digital skills.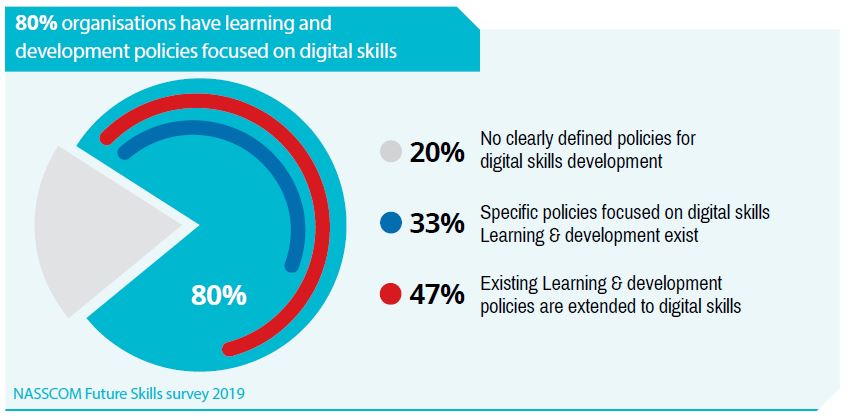 Keeping in mind the dynamic nature of the digital world and the critical role of the talent pipeline to serve it, organisations also review their digital skilling policies regularly to ensure a future-ready workforce. Organizations seem to recognise that what worked last year may not work this year and aligning digital strategy to business needs is a continuous process. Further, acknowledging that relevant digital skills will enable organisations to take advantage of the opportunity created by digital transformation, organisations are creating dedicated digital skill development teams. Almost 40 percent organisations stated that they have specialised teams, aligned with CEO/ business heads that are responsible for digital skill development.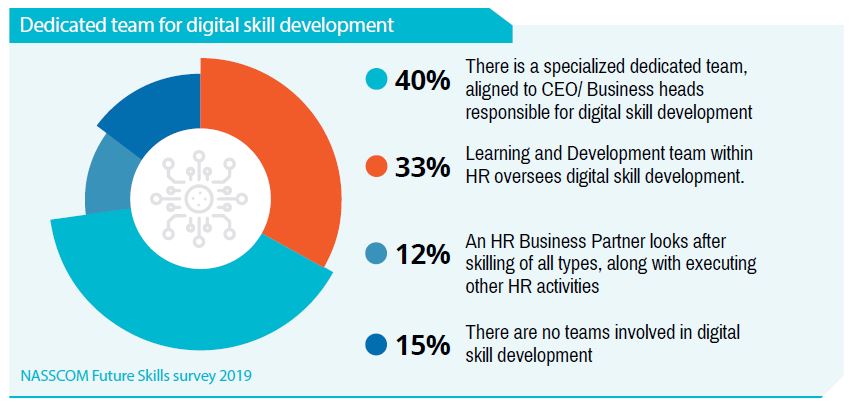 In addition to the above-mentioned strategic drivers, the Indian technology industry is also adopting a multi-pronged strategy for fulfilling talent needs. Read our detailed article 'Build n Buy'- Mantra by organizations to meet talent needs that explains how organisations are leveraging various mechanisms, including focusing on both 'build' and 'buy' approaches, acqui-hiring, and leveraging alternate workforce to meet growing talent needs.
Read full report: Future Skilling for the Digital Economy